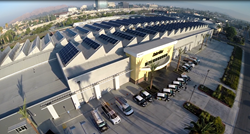 Riverside, Ca (PRWEB) December 17, 2014
SolarMax Technology, Inc. is expanding their marketing efforts in anticipation of significant growth in 2015. New marketing efforts include the launch of ongoing television ad campaigns in multiple major markets throughout Southern California, and a fully redesigned website scheduled for launch in January 2015.
SolarMax Technology produces, sells, and installs American Made solar panels.
In other important news, SolarMax Technology is now offering their own brand of American Made Solar Panels: the "SMX USA 250's". Manufactured in San Jose, California, SolarMax Technology's new American Made panels provide the quality you expect from an American Made product, but come with a price tag that is competitive with imported solar panels.
About SolarMax:
SolarMax Technology, Inc. is a leading installer of Residential and Commercial solar energy systems. Since 2008, SolarMax Technology has completed over 4,200 installations in Southern California. In addition to sales and installation of their own brand of American Made solar panels, SolarMax offers a popular in-house solar finance program. In 2012 they purchased and began renovating a Nationally Historic World War II tank manufacturing plant in Riverside, California and repurposed it as their Corporate Headquarters. With offices in Riverside, Diamond Bar, Tustin, Temecula, San Diego, Redlands, and Thousand Oaks SolarMax Technology is able to produce sales and installations of solar energy systems throughout Southern California. Visit http://www.solarmaxtech.com for more information, or to request a free estimate for your home.