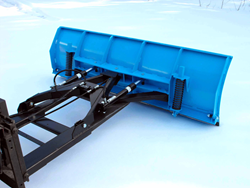 If you don't LOVE it ... we'll take it back!
Canterbury, NH (PRWEB) December 18, 2014
Worrying about hitting obstacles such as curb stones or manhole covers is a fear of the past. Chip Phinney, owner of CP Innovations LLC, says, "The Trip Edge hinges back, while the plow blade jumps up over the obstacle."
Fork truck attachments for snow plowing seems counter-intuitive. CP says, "We've figured it out - how to plow snow, lots of snow. Having the visibility and agility of a forklift, well, there's nothing else that even compares, other than a Skid Steer or a Bobcat."
Two plow models are offered: the Manual Angle, operated from the cab, and a Hydraulic Power Angle model, which utilizes the side shift hydraulics to actuate the plow blade. Both are available in 6 ft or 7 ft blade widths, expandable to 8 ft and 9 ft by attaching the optional plow wings. CP says, "When we ask customers how they like their plow, they don't use the word like - they love it!"
Either model simply slips onto the forks of 1500 lb to 10,000 lb (lifting capacity) fork trucks, equipped with solid or pneumatic tires, propane, diesel, gas or electric powered.
CP Innovations is the manufacturer of Chinook Fork Plows and can drop ship completely assembled plows direct to customers. "Manufactured in batches, not one at a time, they're ready to ship. And, we specially package them for shipping, all keeping the cost down," CP says. Accessories such as cab enclosures and carbide tipped traction screws are also available.
Dealer inquiries are welcomed.
###