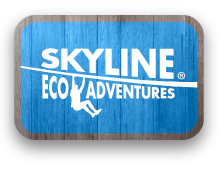 Maui, Hawaii (PRWEB) December 17, 2014
Skyline Eco-Adventures, Hawaii's leading commercial zipline company and operator of the first zipline course in the United States, hosted its fourth-annual "Zip for the Trees" community event and fundraiser on Sunday, Nov. 9, 2014, at its Haleakala, Maui course.
The 4th annual event was in support of Maui Children's charities along with native reforestation on Skyline's Haleakala, Maui zipline course. Funds were raised by selling zipline tours that had guests zipping through towering eucalyptus trees on three exhilarating ziplines at Skyline's original course on the slopes of Haleakala, including Maui's only pendulum zipline reaching speeds of more than 45 miles per hour. All proceeds from each tour benefit three local charities: The Children's Justice Center, the Hui Malama Learning Center, and Maui Youth and Family Services.
Participants also enjoyed live music, prizes and giveaways, horseback rides, food for purchase, and more. Skyline employees and volunteers planted over 300 native trees and removed invasive species in a large-scale effort to restore the native forest land.
Last year, the event raised $3,000 from nearly 100 discounted zipline tours for Hawaii charities and organizations, and more than 60 volunteers worked to restore nearly 1 acre of native forest.
For more on the event visit zipline.com/zip4thetrees or call (808) 878-8400. Skyline's Haleakala course is located 2.5 miles up Crater Road in Kula on the way to Haleakala National Park. "Zip for the Trees" is part of Skyline's extensive ongoing community and environmental efforts. For more, visit zipline.com/about/conservation.
Skyline Eco-Adventures was recently named among Hawaii Business magazine's 2014 Best Places to Work in Hawaii for the sixth consecutive year. Skyline was also selected among more than 100,000 picks in HAWAI'I Magazine's second-annual Reader's Choice Awards, earning top 2014 honors in three categories: No. 1 Zipline Company; No. 1 Zipline Course, Ka'anapali, Maui; and No. 1 Land Activity/Adventure Tour Company.
Skyline Eco-Adventures is a leading commercial zipline company that thrills more than 60,000 guests annually with "knock-your-socks-off" experiences. As the first commercial zipline operator in the United States, Skyline also specializes in the comprehensive design, development and operation of world-class zipline adventures. Skyline operates two Maui zipline tours at Ka'anapali and Haleakala, in addition to the Akaka Falls Skyline Adventure on Hawaii Island, and the Poipu Skyline Adventure on Kauai. Call (888) TO-GO-ZIP or visit http://www.zipline.com.