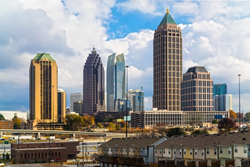 Atlanta is set to do well next year, but Denver will be even better
Chicago, IL (PRWEB) December 16, 2014
As 2014 comes to a close, The Federal Savings Bank, a Midwest based lender, knows that potential home buyers are now interested in knowing which housing markets are set to grow next year and which will have the most affordable prices. This information is also crucial for home sellers, who can adjust their expectations and prices if they live in a growing market.
On December 4th, Realtor.com provided a list of the top 10 markets to keep an eye on in 2015:

Atlanta
Dallas
Denver
Des Moines, Iowa
Houston
Los Angeles
Minneapolis
Phoenix, Arizona
San Jose, California
Washington, District of Columbia
•
The Federal Savings Bank compiled the following information regarding some of its favorite markets.
Atlanta
Atlanta was hit hard by the recession and housing crash but has recovered to be a market to watch. Realtor.com expects the city's housing market to grow 7 percent in the next five years. Much of this has to do with strong employment growth in the region, a large inventory and affordable prices.
According to Investopedia, $200,000 gets you quite a bit for housing in the Atlanta region. At that price point, there are many well-maintained, 1,500- to 2,000-square-foot detached homes and 1,100- to 1,400-square-foot townhomes and condos.
Denver
Atlanta is set to do well next year, but Denver will be even better. Realtor.com expects the Denver area to see 14 percent sales growth - the highest of all the markets.
Home prices in the area have fully recovered, and the only future issue is if prices continue to grow, affordability will decline. For now the market is set to be pushed even higher with newly approved first-time home buyers.
Des Moines, Iowa
Des Moines is the stand-out city on the list. It isn't historically known as a big housing market, but its many fine attributes are attracting a younger crowd: the millennials. Homes in the area are very affordable, and the business and job market is attractive to many younger people wanting to settle down and start a family. In fact, Des Moines' unemployment rate is below the national average. CNN Money also reported Des Moines as one of the best cities for millennials earlier this year because of these factors.
Minneapolis
This portion of the Twin Cities area is also attracting millennials. Minneapolis has low unemployment and even set new records for job growth this year. Along with the strong workforce, it offers buyers affordable prices and lots of new construction.
First-time home buyers interested in purchasing a house in one of these booming markets should contact the Federal Savings Bank, a veteran owned bank, to learn more about low mortgage rates and the pre-approval process