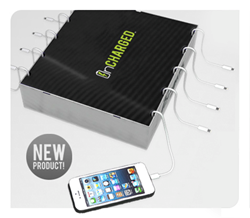 Our customers will be able to benefit from the same cutting-edge proprietary technology present in our original cell phone charging stations while minimizing visual disruption.
Union, NJ (PRWEB) January 06, 2015
InCharged LLC, US leader in the sales and manufacturing of cell phone charging stations, today announced the release of the InBox, a product designed to provide fast and efficient cell phone charging as well as branding opportunities with minimal ambient space interference. After successful beta tests with carefully chosen partners such as Starbucks and Adidas, InCharged has made the InBox available to the public. While the original InCharged cell phone charging stations have seen wild success at trade shows, conferences, events, and large venues, the new InBox caters to businesses that want to offer a premium service without taking up a lot of space - partners who have already chose this solution include bars, restaurants, conference holders, and hotels. The technology of the leading cell phone charging station on the market is no longer available just to large brands and venues: with the InBox, organizations of any size can provide this valuable service to their customers.
"Some of our premium partners have asked us to turn existing design elements in their businesses, such as tables and counters, into cell phone charging stations" said Jessica Gonzalez, Founder and CEO of InCharged LLC. Gonzalez goes on to say, "We're happy to create custom solutions for our clients, and the InBox really allows anyone to turn furniture or everyday objects into a fully-functional cell phone charging station. Our customers will be able to benefit from the same cutting-edge proprietary charging technology present in our original products while minimizing visual disruption. Our clients in the hospitality and food service industry are loving the inBox because it can be attached to tables and bars while taking up very little space - and, it can be customized with a branded skin."
The InVolt and InFuse cell phone charging stations are designed to attract attention with custom skins and HD screens to display advertising, but the InBox was created for a more subtle effect. Business who want to increase brand affinity by providing this valuable service and still take advantage of branding opportunities now have the perfect solution: the InBox can be customized with a skin, but has a dramatically smaller footprint.
The InBox can be placed on a table or attached to nearly any surface- it is even light enough to be discreetly attached to the underside of a table. It is compatible with 95% of all mobile devices and will include 8 charging tips in a customer-chosen variety of iPhone 30 pin, iPhone Lightning, and Micro USB. The next version, due in Q2 2015, is capable of handling laptop chargers as well. As with all InCharged cell phone charging products, the InBox offers the fastest charging speed allowed by cell phone manufacturers. Features such as USB extensions and wireless charging pads will also be available.
InCharged LLC is in the process of turning a simple challenge of modern life - the urgent need to keep smartphones and other mobile devices charged beyond the capacity of present battery technology - into a fundamentally new way for organizations to engage customers with a genuinely appreciated service.
The principle of InCharged is simple: attract, interact, and reward both the customer and the client. Every day, people become potential customers as soon as they need to charge their cell phones. Consumers are attracted to free cell phone charging kiosks. As they charge their phones, video is displayed on a 19" HD monitor right at eye level while high-quality audio is played. Consumers can interact by following a hashtag, visiting a website, or even submitting their email address on a landing page. The client is rewarded with new loyal customers, and the users are rewarded with a free charge.
For InCharged information visit us online at http://incharged.com or call us at 1 (800) 516-3580.
Media Contact:
Director of Marketing and Public Relations, InCharged, LLC
pr@incharged.com