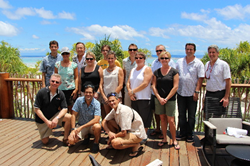 We are fortunate to have an excellent environment for scientific research and we have a strong commitment to ensuring the lessons learned on Tetiaroa...can have an impact in French Polynesia and around the world
KIRKLAND, Wash. (PRWEB) December 17, 2014
Tetiaroa Society, the nonprofit organization aimed at bringing researchers from around the world to conduct scientific studies on the Tahitian atoll of Tetiaroa in French Polynesia, announced today that it has established a Scientific Advisory Board (SAB).
The SAB is chaired by Dr. Neil Davies, Tetiaroa Society's Science Director, who is also Executive Director of the UC Berkeley Gump South Pacific Research Station on neighboring Moorea and an Associate Researcher at the Biodiversity Institute of Oxford University. Scientists from research institutions in French Polynesia, Europe, the United States and New Zealand have been invited to serve on the SAB. They will determine the types of research most needed for conserving Tetiaroa and which studies hold the most value for French Polynesia. They will also identify projects that might have a global impact in the emerging field of sustainability science.
"The evolution of Tetiaroa Society continues to reach exciting milestones, and establishing our first Scientific Advisory Board is one of the most significant yet," said Dr. Davies. "We are prioritizing research and educational opportunities, developing scientific strategy, and promoting the sustainable use of the atoll with input from respected members of the global scientific community - all of whom are dedicated and passionate about our goals."
Tetiaroa is a ring of 12 islets, or motus, around a 4.5 mile-wide lagoon and is owned by the estate of the late Marlon Brando. The actor spent many years on his private retreat planning ways he could conserve its natural beauty, cultural heritage, and implement sustainability features, including energy sourced from the cold ocean depths and the abundant sun and coconuts - all of which are now used to power Tetiaroa. Tetiaroa Society is a tax-exempt 501(c)(3) U.S. nonprofit born from this vision. Its mission is to inspire sustainable interdependence through conservation, education, and creative science. Brando Enterprises and Pacific Beachcomber, the owner of The Brando resort on Tetiaroa, established the organization in 2012.
"Our Scientific Advisory Board is a group of world-class scientists that determines the research taking place on Tetiaroa," said Stan Rowland, chairman of the Tetiaroa Society Board of Directors. "We are fortunate to have an excellent environment for scientific research and we have a strong commitment to ensuring the lessons learned on Tetiaroa, under the stewardship of our SAB, can have an impact in French Polynesia and around the world."
For more information about Tetiaroa Society, or to view a list of Scientific Advisory Board members, go to http://www.tetiaroasociety.org.
About Tetiaroa Society
Tetiaroa Society is a tax-exempt 501(c)(3) U.S. nonprofit organization dedicated to exploring innovative solutions to the world's most pressing issues relating to sustainable interdependence. Named after the privately owned atoll of Tetiaroa, French Polynesia, Tetiaroa Society supports conservation efforts aimed at developing the understanding of harmonious interactions between people and their surrounding ecosystems. Inspired by the late Marlon Brando's vision to preserve sanctuaries for future generations and raise awareness of the fragility of our environment, Tetiaroa Society was founded by Brando Enterprises, which owns the atoll, and Richard Bailey of Pacific Beachcomber, and is supported by high profile members of the international scientific and entertainment communities. As a place of significant cultural value for Polynesians, as well as a site rich in scientific research opportunities, Tetiaroa Society plays a pivotal role in promoting local educational and cultural interests on Tetiaroa while developing research programs of local and global importance.
###