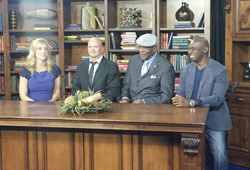 Phoenix, AZ (PRWEB) December 17, 2014
CPAP mask liners continue to receive great reviews and home sleep testing for sleep apnea is becoming increasingly popular among medical/dental professionals and the community as a whole. With organizations like RemZzzs offering a promo code "carl81" for their mask liners and Pro Player Health Alliance promoting home sleep testing, treatment for sleep apnea is now reaching more people who suffer from the disorder than ever thanks to alternatives in treatments and diagnostics.
Recently Bob Rutan, CEO of RemZzzs, announced a campaign that was launched November 2, 2014 called "It's A Game Changer". Mr. Rutan says, "Partnering with Pro Player Health Alliance and Carl Eller has definitely been a game changer. We have been able to help improve the lives of several CPAP users across the country." RemZzzs' mask liners have allowed for individuals to not only feel more comfortable during the night, but their CPAPs have become more effective showing less leakage and decreased skin sores around the mask line.
In addition to increasing tolerance for CPAP users, home sleep testing gives undiagnosed sleep apnea patients a less expensive alternative where they can be tested in the comfort of their home. David Gergen has mentioned, "We have found that a lot of people don't know they can be tested in their own home. It's amazing to see their face light up when they find that they can now seek treatment because they are able to save money on the diagnostics." Pro Player Health Alliance has been growing a network of dentists across the country and is asking that anyone looking to treat NFL greats contact Pro Player Health Alliance at http://www.proplayersleep.com.
About Pro Player Health Alliance
Pro Player Health Alliance (PPHA) is an organization dedicated to helping former NFL players, through providing testing and treatment options for those who suffer from sleep apnea. In addition, the PPHA is dedicated to integrating education and raising sleep apnea awareness, in a fun and memorable way. In addition to the campaign, the PPHA is dedicated to testing and getting people treated who suffer from sleep apnea. This has been stepped up by working though The Living Heart Foundation and its HOPE program sponsored by the NFLPA. The PPHA was created David Gergen, President of Gergen's Orthodontic Laboratories and Former NFL legends.
About David Gergen
David Gergen, CDT and President of Pro Player Health Alliance, has been a nationally respected dental lab technician for over 25 years. He received the award for "The Finest Orthodontic Technician in the Country" given by Columbus Dental in 1986. He also has been appointed Executive Director of the American Sleep and Breathing Academy Dental Division, a national interdisciplinary academy dedicated to sleep training and education with over 60,000 members. David rolled out of bed on December 4, 1982 and had his career "ah ha" moment. He knew he was going to be an orthodontic technician and he knew he was going to help people all over the country to help treat their sleep disorders in partnership with their dentists. He has worked for some of the pioneers in the orthodontic and sleep dentistry fields. He was the personal technician for the likes of Dr. Robert Ricketts, Dr. Ronald Roth, Dr. A. Paul Serrano, Dr. Clark Jones, Dr. Harold Gelb, Dr. Joseph R. Cohen, Dr. Rodney Willey, Dr. Allan Bernstein, and Dr. Thien Pham. One of his proudest achievements is receiving The National Leadership award for Arizona Small Businessman of the Year in 2004.