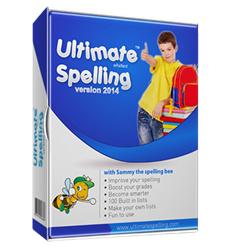 Adults can also brush up their orthography skill and participate in spelling bee competitions, if they want to.
New York City, NY (PRWEB) December 20, 2014
Learn to spell software designer eReflect extends the company's warm congratulations to the many spelling bee contest organizers who help promote good spelling and make spelling study popular. As the developer of spelling tutor software, eReflect knows firsthand the challenges faced by people who are learning to spell. That's one reason why initiatives like adult spelling bees can help people realize that learning to spell is not a task for children only. Adults can also brush up their orthography skill and participate in spelling bee competitions, if they want to.
eReflect wants to specifically recognize the efforts of several organizations that hold spelling bee fundraisers. One of these is Literacy London, which held its second spelling bee fundraiser in 2014 in order for adults to show their spelling skills. The contest also helped raise money for literacy and adult training initiatives that serve citizens of the wider London area.
eReflect also recognizes the Richmond county "Buzz Before the Bee" adult spelling bee competition that helped raise money for after-school programs provided by the organization Communities in Schools of the Richmond County. In fact, this spelling bee was the first ever for the community and eReflect hopes it will fulfill its purpose to promote spelling as a fun activity and raise money for the after school programs in Richmond County.
Senior spelling bee contests is a global trend in the making, notes eReflect. The company points to a regular event, the Great Grown-Up Spelling Bee at the Kalamazoo Public Library at Michigan University. The 2013 Great Grown-Up Spelling Bee managed to raise $20,000 for the "Ready to Read" literacy program, and both last year's and this year's contests aim to raise awareness about the importance of literacy for all people, and also emphasize value of reading.
Ultimate Spelling™ is software that can be used by both children and adults, and as these adult spelling bee competitions reveal, a spelling program for adults is no longer seen as something that isn't age-appropriate. People can show off their spelling mastery in spelling bee competitions no matter their age. The important thing is to promote literacy as a right and obligation for every one, especially children around the world. eReflect hopes that more adult spelling bee contests will be held throughout the US and Europe to help promote literacy as well as spelling skills.
***********
For more information about how Ultimate Spelling software can improve spelling performance for you and your family, please visit the official website at http://www.ultimatespelling.com.
About Ultimate Spelling™
Ultimate Spelling provides a modern and easy to use spelling software that has been designed with one goal in mind – making children want to learn.
It is a fast and easy way to master even the most complicated spelling, without the need to write long lists or complete boring tests.
In fact, Ultimate Spelling provides more than just spelling help. It is a complete educational resource that boosts all level of a child's literacy.
Containing a personal computer tutor, Ultimate Spelling is the most realistic step-by-step guide to flawless spelling ability.