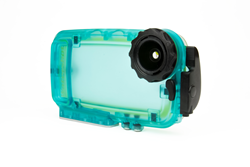 San Diego, CA (PRWEB) December 17, 2014
Watershot Inc., maker of top underwater camera housings for smartphones, announces an exciting reveal just in time to kick off 2015. The company's widely successful Watershot® for smartphone division will be divided into two distinct lines suiting a wider range of consumer's needs – the PRO Photo Line, born from the existing PRO model, and the brand new SPLASH line created for everyday use in and around the water.
Watershot SPLASH
For the water enthusiast, the new Watershot SPLASH model is a welcome addition. Standing apart as a more multifunctional housing, it features touchscreen access above water, access to power and volume controls in water for shutter use, more compact design and comes complete with two high quality glass lenses - flat and wide angle.
The simplicity of phone installation allows users to drop their phone into the SPLASH and leave it all day for water protection and phone use while still capturing the quality images and video Watershot housings are known for. The robust housing features a tripod mount, lanyard, a depth rating of 33 feet and retails for $110.00 with both lenses. The SPLASH will launch compatible with the iPhone 5, 5s and 5c and will begin shipping late December. The iPhone 6 model will be available early spring.
Although widely applicable for a broad range of customer needs, the SPLASH was initially designed with feedback from Watershot's brand ambassadors – top photographers in the surf and underwater world. "Looking for the ability to crop, edit and broadcast images and video live from water sports events, today's photographers need touchscreen capability on the water to utilize a variety of apps while safely encased in a robust and reliable housing with lens and mounting options," noted company founder Steve Ogles. While the Watershot SPLASH is purpose-built, it represents a well-rounded solution for a wide variety of more casual water goers who need access to smartphone capabilities including texting, emails, phone and apps but want a product built to live in the water, not just to be dropped in it.
PRO Photo Line
The flagship PRO Photo Line is designed for aspiring and serious photographers looking to maximize iPhone and Galaxy camera functions and utilize professional accessories. The PRO housings are built for extreme water conditions and depth rated to 195 feet.
Signature to the PRO Photo Line is the removable lens port. Three lenses are now available to fit the port – standard wide-angle, wet-mate wide angle, and the new dome port. The dome port is created to capture "over-under" images by separating water from the camera sensor, maximizing the field of view (FOV) both above and below the water line. Underwater, the FOV is 30% wider than the standard wide-angle lens.
Lenses and mechanical filters are sold separately. The custom app, designed to interface with the mechanical touchscreen buttons, allows users to switch freely between modes and perform a wide variety of photography tasks while fully submerged underwater. The iPhone 6 model ships at the end of December.
To learn more about Watershot housings, log on to http://www.watershot.com.
About Watershot Inc.®
Founded in 1995 by Steve Ogles, Watershot Incorporated®, is located in San Diego, CA. Trusted by the world's best photographers, cinematographers and adventurers, Watershot Inc. designs and develops premium products used on, in and under water. The diverse range of products and projects has included composite and aluminum film, digital dive and surf splash housings, cameraboard and aerial remote mounts and housings, freedive and surf rescue vests, iPod housings, iPhone camera housings, LED dive lights, Lithium Ion dive battery systems, and enclosures for underwater robotic exploration, including 2D and 3D laser measurement and mapping.