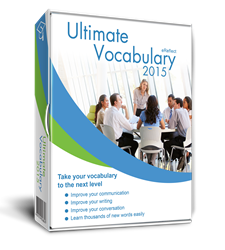 ... children have an entirely different perspective when it comes to what their mothers are like.
New York City, NY (PRWEB) December 22, 2014
Ultimate Vocabulary™ designer eReflect shares a moving video on how children see their mothers, a must-watch short film for every mother out there. Mothers often feel insecure and even guilty for not being "the perfect mom" for their children. However, as this little experiment revealed, children are not at all bothered by things that many moms consider to be flaws. eReflect urges mothers and mothers-to-be to take a look at the video for reassurance. In reality, children have so many things to love, cherish, and appreciate about their mothers that they are not at all concerned with minor flaws their mothers might have, or think they have.
eReflect finds this video on children's perspective of their mothers, a heartwarming one. "More mothers need to know that they're so much more to their children than their possible flaws," said eReflect's spokesperson today. "Mothers in the video explain how they are impatient, sometimes unable to control their temper, or have an inability to listen to their children or find the time to spend with them. While these seem important to moms, children focus on the positive things, and describe their mothers as 'awesome,' 'beautiful,' 'funny' and more."
As it turns out, children have an entirely different perspective when it comes to what their mothers are like. While mothers would list their flaws, shortcomings, and other perceived negative characteristics, children only had compliments.
"My mom is totally awesome," says a young girl, followed by another child who reveals her mum "is fun to snuggle with." These testimonials describing what children think about their mothers reveal that mums are extraordinary, lovable creatures who can make children happy, and who can help them feel safe and loved.
As the developer of vocabulary builder software, eReflect noted the range of positive vocabulary words children used in the video. eReflect hopes to reassure mothers that they're more than enough, and encourages them to stop worrying about their children not liking them. Arguments and occasional quarrels are part and parcel of motherhood. Raising a child is a feat in itself and mothers need to remind themselves of this more often. From cooking, driving back and forth to soccer practice, to sitting down with a child to improve vocabulary knowledge, mothers support, love, and inspire their children every day.
***********
For more information on how you can benefit from Ultimate Vocabulary, please visit its official website, http://www.ultimatevocabulary.com.
About Ultimate Vocabulary™
Ultimate Vocabulary provides a proven and powerful platform, built to improve anyone's vocabulary.
The interactive self-improvement system provides more learning tools than any other program on the market, as well as more information on words.
The Ultimate Vocabulary software provides each and every user with a personal computer tutor. Providing a step-by-step guide to learning a powerful vocabulary, Ultimate Vocabulary is the learning tool everyone can benefit from.
Of course, the software is also backed by eReflect's iron-clad money back guarantee.