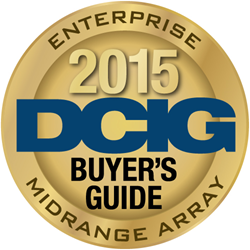 "There is an increasing expectation that data, no matter how much, will be available 24x7x365," said Chuck Cook, research analyst
Austin, Texas (PRWEB) December 17, 2014
Just as constant is the deluge of data, estimated to grow by more than 75% in the next 12 to 18 months alone by leading industry watchers, is the introduction and adoption of technologies by midsized enterprises previously only available to enterprise class storage users. These technologies, such as automated provisioning, continuous availability, performance, scalability, and self-healing just to name a few, are all important to handle not only the ever increasing volume of data that all enterprises face today and into the future, but capabilities that are cost-compatible with broader enterprise high end storage solutions.
While enterprises continue to drown in data, the options to address performance, scalability and reliability push the boundaries of classic midrange array solutions. Many of these new features highlight the latest Enterprise Midrange Array Buyer's Guide. This fourth release of this Buyer's Guide focused exclusively on midrange arrays, DCIG worked to eliminate any ambiguity by surveying vendors in regard to support for non-disruptive upgrades and self-healing techniques as well as broad-based automation support. The results captured in the Buyer's Guide showcase how many midrange array solutions providers are adding these advanced capabilities, giving midrange array users more options at extremely attractive price points.
"There is an increasing expectation that data, no matter how much, will be available 24x7x365," said Chuck Cook, research analyst and co-author of the DCIG 2015-16 Enterprise Midrange Array Buyer's Guide. "That expectation is a given for high end storage arrays, however, it is also becoming a de facto standard for midrange buyers as well. In this year's Enterprise Midrange Array Buyer's Guide, technologies like self-healing, designed to help an array achieve higher levels of availability by enabling the array to detect and resolve certain problems quickly are becoming pervasive among midrange solutions. Midrange array providers are also offering more automated provisioning options as well as broader virtualization support, making most solutions extremely attractive to handle not just ever increasing data growth but availability, performance and reliability as well. We know, as with all our Buyer's Guides, that this will give anyone involved in the decision making process an easy and quick way to shortlist solutions they may want to bring in-house to test and confirm what they are advertised to do."
For the DCIG 2015-16 Enterprise Midrange Array Buyer's Guide, DCIG, LLC evaluated 33 offerings from 16 companies. After an initial survey containing more than 100 questions was completed, product capabilities were assessed based on data provided by the vendor, prior DCIG research, and information available in the public domain. Products were then evaluated on more than 100 features. After scores were compiled, products were ranked Best-in-Class, Recommended, Excellent, Good, or Basic across functionality and capability relative to the other products included in the Buyer's Guide.
The intent for this Buyer's Guide, as with all DCIG Buyer's Guides, is to provide an "at-a-glance" comparison from which end users can select the most appropriate solution for their existing needs.
The DCIG 2015-16 Enterprise Midrange Array Buyer's Guide Top 10 solutions include (in alphabetical order): Dell Compellent SC8000; EMC VNX5000/7000/8000 Series (VNX8000); Fujitsu Limited ETERNUS DX S3 Series (DX600); HDS Hitachi Unified Storage VM, Hitachi Unified Storage 100 Series (HUS 150); HP 3PAR StoreServ 7400 Series (7440c); IBM Storwize V7000 (V7000 Unified); NetApp FAS8000 Series (FAS8040); Oracle ZFS Storage Appliance (ZS4-4); Tegile T3000 Series (T3400).
HP 3PAR StoreServ 7400 Series (7440c) achieved the highest ranking in this Guide for the second year in a row for having the best balance of strengths across all the scoring categories and scoring highest in management and virtualization as well as for robust virtualization support.
HP StoreServ 7400 Series stood out in several ways again from competitive solutions listed in the Buyer's Guide. They include:

Mesh Active Controller Architecture: The controller supports both block and file-based protocols and scales to up to four SAN controller nodes, 96 GB of DRAM and raw storage capacity of 2,000 TB. While concurrently supporting SAN and NAS protocols, the architecture virtualizes other storage arrays (HP EVA Storage or EMC VNX, EMC CLARiiON CX4 or EMC Symmetrix VMAX) to facilitate faster, easier non-disruptive data migrations. HP 3PAR Gen4 ASIC provides hardware-assisted offloading of data movement and data efficiency operations — including deduplication and thin-provisioning--from the primary controller CPU.
Optimization of Performance: Through Wide-striping, the HP 3PAR StoreServ places chunks of data across all drives within a system. With Dynamic Optimization software, chunks of data are also placed on the right tier of storage, moving frequently accessed data on the most responsive tier of storage, while data across all drives in a system to harness collective throughput.
Support for Extensive Suite of Automated Policy-Based Provisioning Capabilities: Storage templates can be created to include SLA/QoS requirements or use policies to automatically select the appropriate storage location. APIs are available for use by 3rd party automation tools and an SDK is available for integrating with management software.
The DCIG 2015-16 Enterprise Midrange Array Buyer's Guide achieves the following objectives:
Provides an objective, third party evaluation of enterprise midrange arrays that evaluates and scores their features from an end user's perspective
Scores and ranks features of each enterprise midrange array on criteria that matter most to end users
Provides a standardized data sheet for each of the enterprise midrange arrays so users may do quick side-by-side comparisons of products
Gives any organization a solid foundation for getting competitive bids from different providers that are based on "apples-to-apples" comparisons
"We all know there are certainties in data storage, unbelievable growth and an increasing need to access, manage, protect, recover and store data without experiencing any downtime," added Ken Clipperton, managing analyst and co-author of the 2015-16 Enterprise Midrange Array Buyer's Guide. "And while end users need solutions to address these certainties, they don't have blank checks to pay for them. We continue to be impressed by the number of midrange solutions that are pushing the boundaries to address the certainties, but also do so at competitive price points. Thanks in large part to the overwhelming end user feedback to our Buyer's Guides, we know they continue to be an important resource for IT users looking for the best midrange array solution to handle their data growth, performance and scalability challenges."
Disclosure and Methodology
DCIG identified 16 companies that provide enterprise midrange arrays. Each enterprise midrange array had to meet the following criteria:
Must support Fibre Channel (FC) and/or iSCSI block-based connectivity to hosts or storage networks
Had to scale to support at least 200 TBs of raw capacity in a dual controller configuration
Must support dual controllers in an Active-Passive, Dual-Active, or Active-Active failover configuration
Must have a starting list price under $200,000 or the list price for a typical shipping configuration must be below $75,000
Must be generally available as of January 30, 2015
It is important to note that no vendors, whether clients or not, for this Buyer's Guide or all Buyer's Guides before, were afforded preferential treatment. All research was based upon information provided directly by vendors, research and analysis by DCIG and other publicly available information and all results solely reflect the opinion of DCIG.
As with all Buyer's Guide, they are not intended to be a substitute for internal testing nor was any product testing completed. DCIG encourages any organization that is considering the purchase of any solution included in a Buyer's Guide to do its own in-house testing.
As a supplement to this Buyer's Guide, all of the data collected for this Buyer's Guide and all DCIG Buyer's Guides to date are available through the DCIG Analysis Portal, an online data visualization portal. The portal provides more detail on what is available and can be accessed via this link.
Availability
The DCIG 2015-16 Enterprise Midrange Array Buyer's Guide is available immediately to subscribing DCIG Analysis Portal users at the following link http://portal.dcig.com/. Users new to the DCIG Analysis Portal may register at this link to access this Guide.
Resources:
DCIG Website: http://www.dcig.com
DCIG Blog: http://www.dcig.com/blog
About DCIG
DCIG is a group of analysts with IT industry expertise who provide informed, insightful, third party analysis and commentary on IT hardware, software and services.
DCIG independently develops and licenses access to DCIG Buyer's Guides. DCIG Buyer's Guides provide actionable intelligence through comprehensive, in-depth analysis of data center infrastructure product features. DCIG also develops sponsored content in the form of blog entries, customer validations, product reviews, special reports and executive, standard and full-length white papers.
DCIG's target audiences include C-level executives, IT managers, systems and storage engineers and architects, press/media, magazine and website editors, bloggers, financial and technical analysts, and cloud service providers.