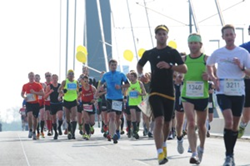 Among the top marathons in the world.
Düsseldorf, Germany (PRWEB) December 17, 2014
Düsseldorf is discovered by more international travelers each year as a top leisure destination, and each April, thousands of international runners are among the visitors to join the annual METRO GROUP Marathon. Around 16,000 runners participate, and about 30% of them come from abroad, including US and Canada. American runner Annie Bersagel won the 12th marathon this year, and early registrations for 2015 are already breaking records, according to organizer METRO GROUP.
The event also received a major award of recognition this year at the Athens Marathon in Greece, the "Marathon Flame," making official its status among the top marathons in the world.
There are many reasons why the Düsseldorf marathon stands out, including a beautiful double-loop along both sides of the Rhine River featuring some of the city's biggest attractions, like the historic Old Town, modern MediaHarbour, and famous shopping boulevard Königsallee. Moreover, the route is mostly flat, the city's elevation ideal for record-minded runners, and an extensive program keeps runners and spectators entertained. A "Road Relay Race" is part of the marathon, and up to 10,000 participate each year, a feature that is especially attractive for up to 2,500 corporate teams.
Participating in the METRO GROUP Marathon is a big reward in many ways, one of them literal: Every runner who finishes the 2015 race receives a very large medal in recognition of the big accomplishment. The medal shows some of the city's icons: Historic city hall, a gas lantern, and the image of Jan Wellem on horseback, a 17th century duke who was born in Düsseldorf.
Registration is now open until April 12, 2015.
For more information and to register, please visit http://www.metrogroup-marathon.de/.
Düsseldorf's tourism office is offering hotel and city specials. The package, called "METRO GROUP Marathon Düsseldorf 2015," can be booked right from the tourism office's website at https://www.duesseldorf-tourismus.de/en/accommodation/hotel-packages/marathon/. Prices currently start at €45 per night per person based on double-occupancy for a 2-3-star hotel in the city center and at €75 per person for a 4-star hotel. The package includes breakfast, a 10% discount on the registration fee for METRO GROUP Marathon 2015, one DüsseldorfCard (free public transportation within city limits plus 30 free or reduced admissions to city attractions), and a city information package. Please check the website for current information.
For more information about Düsseldorf, please visit: http://www.visitduesseldorf.de.
# # #
Düsseldorf Marketing & Tourism GmbH is the visitors and convention bureau of the city of Düsseldorf. Its responsibilities include tourism and city marketing, as well as conference and meeting marketing, hotel reservation services, fairs and convention services, city event ticket sales and advance ticket reservations. For more information, visit http://www.visitduesseldorf.de.
Düsseldorf Airport, Germany's Next Generation HubTM, offers several non-stop flights from US & Canadian cities (Atlanta, Chicago, Ft. Myers, Los Angeles, Miami, New York, Newark), as well as convenient connections to many European cities. For more information about the airport, visit http://www.dus.com.