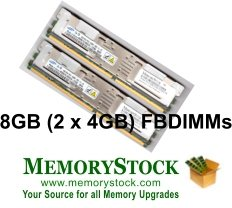 Fully Buffered DIMM (or FB-DIMM) is a memory technology that can be used to increase reliability and density of servers. MemoryStock.com 8GB FBDIMM kits provide the highest server performance.
(PRWEB) December 18, 2014
MemoryStock.com has announced the release of new stock of high-speed, high-density FBDIMM memory kits with a capacity of 4GB running at the speed of 667Mhz PC2-5300. These are new 8GB Kits high-speed, high-density FBDIMMs.
Find the new stock in the following link...
8GB 667MHz Fully Buffered FBDIMM kit.
Fully Buffered DIMMs (or FB-DIMMs) is a memory technology that can be used to increase reliability and density targeted at servers. These FBDIMMs come with a data rates as high as 4.8 Gb/s, enabling extremely fast buffering, optimizing server performance, these have special technology limiting data inaccuracies and thus avoiding crashes to improve overall server reliability.
MemoryStock.com New stock FBDIMMs offer virtually unlimited scalability of density. Dell fully-buffered FBDIMM Memory Modules are immediately available in the form of a 2GB Kit (2 x 1GB) modules, 4GB Kit (2 x 2GB) modules and 8GB Kit (2 x 4GB) modules.
4GB 667MHz PC2-5300 FBDIMM Features and Specifications as:

Tested at 667MHz for optimal performance
1.8 Volts operation
Operational enhancements to increase memory performance, efficiency and timing margins
Latency timings: 4-4-4
Memory kits (modules) up to 4GB
These 8GB Kit DDR2 FBDIMM memory promises high-quality memory compatible with the following Dell Server Lines.
Dell PowerEdge 2950 III, PowerEdge 1950 III, PowerEdge 2900 III, Precision Workstation T7400, PowerEdge 1950, Precision Workstation 690, PowerEdge M600 Blade, Precision R5400 Rack Workstation , Precision Workstation 690 (750W Chassis), Precision Workstation 490, PowerVault NF600 (DDR2-667MHz), Precision Workstation 490, PowerEdge R900 Server, PowerEdge M1000e Modular Blade, PowerEdge 1950, PowerEdge 1955, PowerEdge 2950, PowerEdge 2900, PowerVault DP600, PowerVault DP500, Precision Workstation T5400 (DDR2-667MHz) , PowerEdge 2900.
8GB kit FBDIMMs Compatible HP and Compaq Servers.
Compaq DL140 G3,DL380 G5,DL360 G5,ML370 G5,BL680c G5,BL480c,BL460c,ML370 G5,ML350 G5,DL380 G5 Storage Server,DL580 G5,DL160 G5,,Workstation xw6400,ProLiant BL460c E5405 2.0GHz Quad Core Blade Server (459487-B21),ProLiant BL460c G5 Server Blade,ProLiant BL460c Server Blade,ProLiant BL20p G4,xw460c Blade Workstation.
HP Workstation xw8400,Workstation xw8600,Workstation xw6600,Workstation xw6600.
8GB kit FBDIMMs Compatible IBM Servers.
IBM Intellistation Z Pro Type 9228,BladeCenter HS21 XM (Type 7995),BladeCenter HS21 XM (1915),BladeCenter HS21 (Type 8853),System x3500 (7977),System x3450 (7948-xxx),Lenovo ThinkServer RD120 (Type 6444, 6445, 6446 and 6447) Server,Lenovo ThinkServer TD100 (Type 6398, 6399, 6419 and 6429),Lenovo ThinkServer TD100x (Type 4203, 4204, 4205 and 4206),Lenovo ThinkStation D10 Workstation,System x3550 (7978),System x3650 (Type 7979) Server,eServer x BladeCenter HS21 -8853,Lenovo SMC Storage Array (8332).
FBDIMM Compatible Intel Motherboards and Servers.
Intel SR1560SFHS Server,TIGW1U Server,SR2520SA Series,SR2500AL ,SR1560SF ,SR1550AL ,SR1500AL ,SC5400RA ,SSR212MC2 ,S7000FC4UR Server,MFS5000SI ,S5000XAL Server,S5000XSLSATAR Server,D5400XS ,S5000VSA4DIMMR Server (DDR2-667MHz),NSW1U IP Network,S5000XSL Server (DDR2-667MHz) ,S5000XVNR Workstation (DDR2-667MHz),SR1530HCLSAS,SR1530HCLSAS,SR1530HCL,SR1530HCL,SR1530CL,SR1530CL,S5000VCL,S5000XVN,S5000XVN,S5000VSA,S5000VSA,S5000PSL,S5000PSL,S5000PAL,S5000PAL
View all other models that can take the 8GB FBDIMM kit memory at the following link...
http://www.memorystock.com/8GbKit-2x4GB-FBDIMMs-667MHz-Models.html