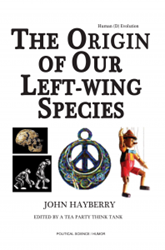 (The author) aims for a humorous tone in calling for a reversal of the current trend toward liberalism.
INDIALANTIC, Fla. –
(PRWEB) December 17, 2014 -- Political madness has overwhelmed the United States of America, thanks to the politics of liberal psychopathology. That's the claim of this new book by John Hayberry, released by Dog Ear Publishing. He writes with a dash of humor about a new theory that helps explain what he calls the "anthropo-psychiatric reasons" for society's left-wing metamorphosis and how it's destroying the nation he loves.
"The Origin of Our Left-Wing Species" covers Hayberry's theory of human (D) evolution, clarifying things about liberals and what happens when they serve government; fantasy addiction disorder, which explains liberal thought; and the PETS hypothesis, about people enabled to survive, which explains liberals' origin and behavior. He explores the Darwinian origins of liberalism and discovers what makes liberal socialist Democrats (known as L.S.Ders in the book) tick.
In addition, rampant drug use, legal abortion, a weakened economy and other factors connected to liberals are all related to the downfall of the United States, which faces a staggering debt of nearly $18 trillion, Hayberry writes. The issue is serious enough that the author notes that he has published the book in the interest of national security, calling for nothing less than a radical change of thought to bring the United States of America back to the standards it once held dear.
Author John Hayberry describes himself as a comedic human zoologist.
----------
For additional information, please visit http://www.theoriginofourleftwingspecies.com
The Origin of Our Left-Wing Species
John Hayberry
Dog Ear Publishing
ISBN: 978-1-4575-2091-4 344 pages $26.95 US
Available at Ingram, Amazon.com, Barnes & Noble and fine bookstores everywhere.
About Dog Ear Publishing, LLC
Dog Ear Publishing offers completely customized self-publishing services for independent authors. We provide cost-effective, fast, and highly profitable services to publish and distribute independently published books. Our book publishing and distribution services reach worldwide. Dog Ear authors retain all rights and complete creative control throughout the entire self-publishing process. Self-publishing services are available globally at dogearpublishing.net and from our offices in Indianapolis.
Dog Ear Publishing – self-publishing that actually makes sense.