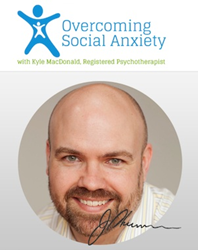 the award reflects the excellence in regular writing of entries related to this mental health concern that we feel is consistent and worthy of people's time
(PRWEB) December 19, 2014
A pioneering way to treat social anxiety online has made it into the top-10 blogs for 2014.
Kyle MacDonald's OvercomingSocialAnxiety.com website has been awarded the Best of the Web Blog Award for 2014 by leading psychotherapy website Psychcentral.com for both the way it tackles social anxiety, social phobias and shyness, and its use of new methods of treatment.
John M Grohol, founder and CEO of Psych Central, said the award reflects "the excellence in regular writing of entries related to this mental health concern that we feel is consistent and worthy of people's time".
"With training in behavioral and psychodynamic techniques, Kyle is pioneering an online-based treatment. The blog is a well-illustrated and down-to-earth read, neatly written in a nonjudgmental voice."
The top-10 was compiled with input from readers as well as staff at Psych Central, which is the oldest and largest mental health resource online, has been reviewing online resources since 1992 and receives more than 7 million unique visitors each month from all over the world.
MacDonald, who has more than 15 years' experience as a registered psychotherapist and is co-director of the Robert Street Clinic in Auckland, New Zealand, launched overcomingsocialanxiety.com last year as a way to offer online treatment for a condition which affects around 7% of people over the age of 18.
MacDonald said offering his step-by-step system to help people tolerate social anxiety, access to video therapy sessions, and customized workbooks, video and audio tracks provided a modern solution to a difficult problem which affects people worldwide.
"The very act of having to go out to find help can be crippling for people who suffer from social anxiety," MacDonald said.
"The online treatment gives them easy access to all the tools they need to manage their anxiety and understand how to get on with their life."
MacDonald also said he was pleased his blog had been noted for its simple and honest approach to to tackling social anxiety.
"People who suffer from social anxiety tend to feel they may be judged negatively by others in social or work situations and that they may feel crippling embarrassment and shame," MacDonald said.
"Because of this they tend to avoid situations that cause anxiety – something which seriously impairs their lifestyle – but then also feel upset about the anxiety and the problems it causes. It can become a vicious cycle.
"What our blog does is explain the process by which social anxiety can affect you and what you do to treat it by using videos, simplified case studies and up-to-date news on the latest clinical treatment developments."
To see the full list of top 10 anxiety blogs for 2014, click here
For more information about the website OvercomingSocialAnxiety.com, or Kyle McDonald contact him on kyle@overcomingsocialanxiety.com or +64 21 708 689.