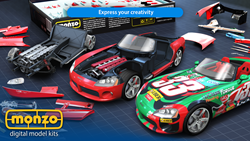 "Every day brings a Monzo competition for the best model, it is also possible to enter with any of the eight free models. Thanks to Revell and Nvidia, who provide prizes like real models and Nvidia Shield Tablets, we reward contestants every day.
Brno, Czech Republic (PRWEB) December 18, 2014
MADFINGER Games, the frequent recipient of critical acclaim and developer of high ranking games in global app communities, has made the decision to create something unlike anything it has ever done before.
Brand new models available with the Xmas update:
Supermarine Spitfire Mk.IX C / XVI, (Revell) - The legendary fighter plane from the Battle of Britain
P-51 Mustang Mk.III, (Revell) - One of the most successful fighter planes of WWII
Fokker Dr.I - The fighter plane of the infamous Red Baron
Tiger II Ausf. B, (Revell) - The invincible tank
T-34 - The best medium armor tank of the first half of WWII
Xmas gifts - free Monzo models:
DaVinci's Alternate Rotation
DaVinci's Spring Catapult
DaVinci's Hammer Mill
DaVinci's Lantern System
DaVinci's Mirror Grinder
DaVinci's Reciprocating Motion
Stirling Engine
Sports car
Realistic Quality

Realistic reflections of all models
Anti-aliasing
These enhanced graphical features are exclusive to the latest devices that support metal technology for iOS and for android nVidia shield tablet with Tegra K1.
Diorama - 3D background
This feature allows to complete model into amazing 3D backgrounds and elevate it to the highest level of creativity and expression.
UNDO in Paint
The new undo function in Paint mode provides more possibilities of experimenting.
Tips and Tricks
Video tutorial: step-by-step instructions (http://www.monzoapp.com/tips-and-tricks)
The best models: Inspiration from the models created by other MONZO fans
Photo content support
Other improvements
New achievements
Higher application stability when running on older devices.
Resolution of occasional payment issues.
Madfinger Games is a stable and dominant player in multimedia entertainment focusing on mobile platforms. Founded in 2009, Madfinger instantly achieved top ranking in the sale of its apps. A majority of recognition comes from Madfinger's signature stunning visuals and excellent gameplay experiences.
Today Madfinger Games continues to expand its portfolio with an in-house staff of over 50 employees and games that have been downloaded by more than 80 million players.
Check out the MONZO video trailer: http://bit.ly/monzo_vid
Download MONZO screenshots here: http://bit.ly/monzo_screens
Facebook: http://www.facebook.com/monzo