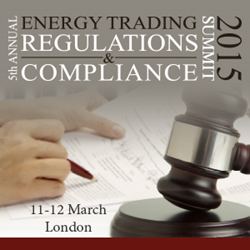 It's an IRN Summit!
London (PRWEB UK) 18 December 2014
With MiFID II's entry into force at the beginning of January 2017, there are still some crucial points to clarify, such as the definition of financial products, the status on exemptions that delimit the regulatory perimeter, and implications for companies who trade with emissions (CO2). The new directive comprehensively revises the first version with the intention to improve the functioning of financial markets and achieve better investor protection.
Riccardo Rossi, the Regulatory Affairs Manager of Gazprom Marketing & Trading, will provide delegates of the ETRC 2015 Summit with a comprehensive update on MiFID II, its latest timeline and developments around key definitions and exemptions. The presentations of the Summit will also focus on REMIT, EMIR, CRD IV and MAD, addressing their impact on energy trading companies. Regulations outside the European Union will also be discussed with sessions focusing particularly on the Dodd-Frank Act and Swiss regulations, amongst others.
Confirmed attending companies include: Deutsche Boerse, Delta Energy, DONG Energy, Statkraft, Hess Corporation, ETR Advisory, ISDA, Gazprom Marketing & Trading, ISDA, E.ON Trading, WINGAS, EDF Trading Markets Ltd., Shell, Axpo Italy, EnBW Trading, ICIS, GDF Suez, UnaVista, ICAP, Fortum, BKW, Enovos, OMV, ExxonMobil, Gas Natural, Bord Gais, NValue, GasTerra, BG, SwissGas, Mol Trading, Marquard&Bahls, Hofor, Axpo Iberia and Cepsa Trading, amongst many others.
This edition of ETRC is sponsored by the regulatory software provider Impendium; the technological platform of the London Stock Exchange Group; UnaVista, and ETR Advisory. The Summit is endorsed by EFET, supported by ERRA, and will welcome representatives from financial and energy regulatory bodies such as FCA, E-Control, the Federal Electricity Commission of Switzerland (ElCom), and the German National Regulator Bundesnetzagentur.
More information about this Summit is available on the website: http://www.etrcsummit.com.