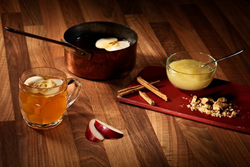 (PRWEB UK) 18 December 2014
With days getting shorter and the chills of winter upon us, many are embracing the cold season by swapping regular nights out on bar terraces with relaxed evenings at home. To help make the most of cosy nights in, the drinks experts from thebar.com have come up with delicious cocktail recipes that will see you through the winter.
Mixing your favourite seasonal spirits with warming flavours and spices, these serves will take the chill out of any cold day. As if that wasn't enough, they are so accessible and easy to make, that they're bound to become the drink of choice this winter season.
Hot Apple Bite by Smirnoff
1.9 units of alcohol per serve
Ingredients
50ml. Smirnoff® Gold
200ml. Apple Juice
2tsp Brown Sugar
1tsp Apple Purée
1slice Apple
1piece Crushed Biscuit
Method
1. Place all ingredients in a saucepan.
2. Warm the mixture and stir together thoroughly.
3. Pour the mixture into a glass mug.
4. Garnish with a slice of apple and crushed biscuit.
Baileys Original Irish Cream Hot Chocolate
0.8 units of alcohol per serve
Ingredients
50ml. Baileys® Original Irish Cream Liqueur
150ml. Hot Chocolate
1piece Whipped Cream
1shaving Chocolate Shaving
Method
1. Pour Baileys Original Irish Cream Liqueur and hot chocolate into a glass.
2. Garnish with whipped cream and chocolate curls.
Spiced Cider
1.9 units of alcohol per serve
Ingredients
50ml. Captain Morgan Original Spiced Gold
80ml. Apple Juice
2dashes Angostura Bitters
3pieces Star Anise
4buds Clove
2tbsp Sugar or Maple Syrup
Method
1. Pour Captain Morgan Original Spiced Gold, apple cider, angostura bitters, star anise, cloves and sugar into a saucepan.
2. Heat until the sugar has dissolved.
3. Pour into a glass.
So what are you waiting for? Pick from one of these warm drink recipes and snuggle up with the help of thebar.com this winter season.
For more inspiration head to uk.thebar.com. With hundreds recipes to choose from, there's something to suit everyone's tastes. Search by ingredient or spirits for recommendations for the perfect celebration cocktail.
For recipe requests or expert tips contact Thebar.com Press Office at GolinHarris:
Teekshana Smith – tsmith(at)golinharris(dot)com 0207 067 0654
Notes to editors
Enjoy drinks sensibly. Visit uk.thebar.com
About Diageo
Diageo is the world's leading premium drinks business with an outstanding collection of beverage alcohol brands across spirits, beer and wine. These brands include Johnnie Walker, Crown Royal, JεB, Windsor, Buchanan's and Bushmills whiskies, Smirnoff, Cîroc and Ketel One vodkas, Baileys, Captain Morgan, Tanqueray and Guinness.
Diageo is a global company, with its products sold in more than 180 countries around the world. The company is listed on both the New York Stock Exchange (DEO) and the London Stock Exchange (DGE). For more information about Diageo, its people, brands, and performance, visit us at http://www.diageo.com. For our global resource that promotes responsible drinking through the sharing of best practice tools, information and initiatives, visit DRINKiQ.com.
Celebrating life, every day, everywhere.