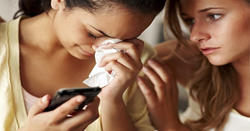 Parents need to be more vigilant with their teens when it comes to sexting and bullying without invading their teen's privacy or hurting their feelings.
London, UK (PRWEB) December 17, 2014
From teen bullying to an obsession with sexting and selfies, teens all over the world had their hands full this year. NoBullying explores, in a series of articles in the spotlight this week, what exactly were teens doing in 2014.
When it comes to sexting statistics, according to this source published by Guard Child in 2014, 20% of teens have sent or posted nude or semi-nude photos or videos of themselves. About 22% of teen girls have admitted to sending these photos, where only 18% of boys have admitted to the same thing. This could be because boys will pressure girls to send these photos more often than girls will pressure boys.
Of the 70% of teen girls who have sexted, 61% have said that they did so because they were pressured. When it comes to sexting sexually explicit written messages, more boys send them than girls. Statistics show that 24% of high school aged students (between the ages of 14 and 17), and 33% of college students (between the ages of 18 to 24), have at one time or another, sent a nude or semi nude photo to another person. The presence of applications ready to use for sexting such as snapchat and kik hasn't helped curb sexting.
Most parents of teens try not to violate their privacy which includes privacy related to cell phones. If parents request that their teens let them look through their phones, it can cause problems in the parent-teen relationship. The teen will feel that their parents do not trust them, and will likely become angry and more conscientious when it comes to deleting the messages. The best way to prevent teens from sexting has proven to be proper communication.
As for bullying, it can have terrible consequences. In recent studies on teens and bullying, like this one published in 2014 by Bullying Statistics.org, almost 50% of the people surveyed stated that they had considered committing suicide due to bullying. It is distressing to state that this group always converts thoughts into actions at a higher rate than the ones who haven't been bullied. Victims of bullying are more prone to experience depression as well.
A terrible effect of bullying is the sort of pattern it imposes on its victims' lives, which can last eternally. Almost 40% of those bullied at school continue to be bullied later in their adult life at work and social circles, according to the same source.
Ciaran Connolly, Co Founder of NoBullying says "The answer remains the same, parents need to be more vigilant with their teens when it comes to sexting and bullying without invading their teen's privacy or hurting their feelings."
He added that parents and teachers should make a point to educate the younger generations about the sad outcome of all kinds of violence and bullying. According to Connolly, it is quite imperative to press for more firm laws condemning all acts of bullying and harassment.
NoBullying.com features many pages dedicated to parents, teens, teachers, health professionals as well as posts related to cyber safety and the latest news about law making concerning curbing Bullying worldwide as well as inspirational Bullying Poems and famous Bullying Quotes.
The website regularly updates its bullying statistics and cyber bullying statistics as it is essential to understand how widespread the bullying epidemic is. It also regularly runs cyber bullying surveys and questionnaires to get recent updated statistics on everything related to cyberbullying.
He also added that anyone suffering from bullying in any form or way can always find advice and help on the NoBullying website – but if anyone is suffering from severe bullying or cyber bullying, the best thing is to talk to someone locally – a parent, teacher or local organization that has been set up to help with specialized councilors to deal with this topic.