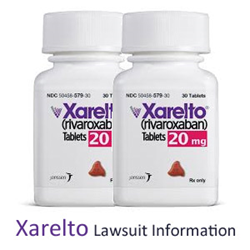 If you believe you have suffered internal bleeding due to Xarelto contact the attorneys at Wright & Schulte LLC For a Free legal consult buy calling 1-800-399-0795 or visit www.yourlegalhelp.com
Columbus, OH (PRWEB) December 20, 2014
Xarelto bleeding lawsuits filed by men and women contend they suffered uncontrollable bleeding and other serious side effects will be consolidated in the U.S. District Court, Eastern District of Louisiana for coordinated pretrial proceedings, Wright & Schulte LLC reports. The U.S. Judicial Panel on Multidistrict Litigation (JPML) issued an order Friday to transfer 21 Xarelto lawsuits and over 30 potential tag-along actions pending in 22 federal courts to the Louisiana district court for coordination by Judge Eldon E. Fallon. The request by plaintiffs in pending Xarelto complaints to establish a multidistrict litigation (MDL) was granted after the panel found that the Xarelto bleeding lawsuits share common questions of fact regarding the development, manufacturing and marketing of the blood thinner. The panel wrote the Xarelto complaints also had common allegations including Bayer AG, the Germany-based manufacturer of Xarelto, and Johnson & Johnson's subsidiary, Janssen Pharmaceuticals Inc., which markets Xarelto, did not adequately warn doctors, patients and consumers about the severe or fatal bleeding risks associated with the blood thinner and there is no reversal agent available to counteract Xarelto's anticoagulation effects. The JPML's order also stated that centralizing the cases will prevent inconsistent potential rulings and eliminate duplicative discovery. (In re: Xarelto (Rivaroxaban) Products Liability Litigation, MDL 2592).
The firm continues to offer free legal consultations to men and women across the country who believe they have suffered serious side-effect after uncontrolled bleed from the blood thinner Xarelto. To speak with one of the firms attorneys contact Wright & Schulte LLC by calling 1-800-399-0795 or visit http://www.yourlegalhelp.com and submit a request form.
Bayer and Janssen objected to a Xarelto MDL consolidation and asked the JPML to allow an informal coordination of the cases between the parties. The panel wrote in its order that informal coordination among plaintiffs and the defendants is unlikely because there are more than two dozen plaintiffs' law firms and discovery located in a foreign country. Since the defendants were not opposed to Louisiana being an alternative court, the JPML selected Louisiana because it would provide a "geographically central forum for this nationwide litigation." The panel's order further said that Judge Fallon is "well-versed in multidistrict litigation" and the panel is "confident that he will steer this matter on a prudent course." (In re: Xarelto (Rivaroxaban) Products Liability Litigation, MDL 2592).
Xarelto is an oral anticoagulant first approved by the U.S. Food and Drug Administration (FDA) in 2011. Xarelto is used to treat blood clots in the leg (deep vein thrombosis) and lungs (pulmonary embolism) and to reduce the risk of stroke and blood clots in patients with atrial fibrillation (irregular heart rhythms). Xarelto and Pradaxa are considered new generation blood thinners because prior to their approval, the FDA had only approved one blood thinner 60 years ago and that was warfarin (Coumadin, Jantoven). However, unlike warfarin which has vitamin K as a reversal agent for bleeding, Xarelto does not have an antidote should severe bleeding occur in patients using the blood thinner, according to the FDA. [fda.gov/NewsEvents/Newsroom/PressAnnouncements/ucm326654.htm, November 2, 2012] [fda.gov/Drugs/NewsEvents/ucm405148.htm, July 17, 2014]
The increased use of Xarelto has resulted in more serious adverse events reported to the FDA, according to the Institute for Safe Medicine Practices (ISMP). In May, the ISMP stated in its QuarterWatch Report, which monitors and analyzes serious adverse drug events reported to FDA, that there were 680 serious adverse events associated with Xarelto (rivaroxaban) compared to 528 for Pradaxa (dabigatran) in the first quarter of 2013. The ISMP noted that this was the first time Xarelto complications had outnumbered those involving Pradaxa. The ISMP also reported that outpatient prescriptions for Xarelto increased to nearly 1 million prescriptions per quarter while Pradaxa has steadily declined since peaking in early 2012. The ISMP suggested that this trend is due to doctors changing prescriptions from Pradaxa to Xarelto.
[ismp.org/quarterwatch/pdfs/2013Q1.pdf, May 7, 2014]
Court documents indicate that among the plaintiffs who filed the MDL consolidation request to the JPML was an Illinois woman who alleges that after she began taking the blood thinner medication in November 2013, she experienced uterine bleeding a few weeks later. The lawsuit alleges that the life-threatening episode caused the woman to be hospitalized and she had to receive multiple transfusions. The Xarelto bleeding side-effects complaint against Bayer and Janssen purports that the companies failed to adequately warn doctors and their patients about the bleeding risks associated with using Xarelto.The lawsuit was filed in the U.S. District Court, Southern District of Illinois. (3:14-00987)
About Wright & Schulte LLC
Wright & Schulte LLC, an experienced personal injury firm, is dedicated to the belief that America's legal system should work for the people. Every day, the attorneys of Wright & Schulte LLC stand up for the rights of people who have been injured or wronged and fight tirelessly to ensure that even the world's most powerful corporations take responsibility for their actions. If you're looking for a law firm that will guarantee the aggressive and personal representation you deserve, please do not hesitate to contact Wright & Schulte LLC today. Free Xarelto bleeding lawsuit case evaluations are available through yourlegalhelp.com or by calling 1-800-399-0795.
Contact:
Wright & Schulte LLC
812 East National Road
Vandalia, Ohio 45377
1-800-399-0795
http://www.yourlegalhelp.com
Like us on Facebook
Follow us on Twitter
Join us on Google+