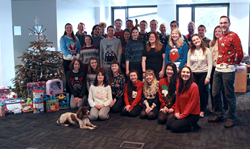 Shelter Scotland is an excellent organisation that works hard to help people who are facing homelessness or problems with poor housing conditions.
Edinburgh (PRWEB UK) 18 December 2014
The annual Secret Santa lucky dip is a familiar sight in offices all over the country but this year, leading search agency QueryClick decided to forego its traditional present swap in favour of donating a total of £612 worth of gifts to #SocialMediaSanta – a charity initiative benefiting Shelter Scotland.
The idea of #SocialMediaSanta was first posited by Ross McCulloch, founder of Be Good Be Social, in 2012 and every year since, prominent housing charity Shelter Scotland has been the happy recipient (and distributor) of gifts from philanthropic users of social media site Twitter.
Noticing the concept lighting up twitter feeds across the country, QueryClick saw an opportunity to enjoy giving a worthwhile gift this Christmas and looked for ways to get involved. The team decided to forego the traditional present swap of an in-office Secret Santa in favour of each spending up to £10 on a gift for a disadvantaged child.
A spokesperson from the agency explained: "As soon as the idea came up, we knew we wanted to donate. Our Santa Cause this year was simply to scrap the traditional office Secret Santa – which, let's face it, can sometimes feel a little like a chore or obligation – and get into the real spirit of Christmas."
"Who wouldn't be happy to pass up the chance of receiving another novelty mug for your desk or an unwanted box of sweets and instead have the chance to give a gift to a child who might not otherwise have anything to open on Christmas morning?"
In total, the team managed to collect 29 toys, with a value of £306. What's more, QueryClick has matched the amount of money spent by the team and the entire lot has been donated to the Edinburgh Shelter Scotland, where they will be sorted, wrapped and delivered to the most suitable recipients.
Queryclick also joined in to help spread the word about #SocialMediaSanta, spreading information across social media platforms as well as on its own website and blog. They were very happy to get behind such a great initiative and to promote such a worthwhile charity, said the SEO experts: "Shelter Scotland is an excellent organisation that works hard to help people who are facing homelessness or problems with poor housing conditions.
Not only does it offer practical help and advice, it's also a great source of information, publishes timely reports, and boasts a knowledgeable and approachable frontline team. We're pleased to have had the opportunity to help the charity ensure that the people that it helps throughout the year had something to look forward to this Christmas."
Last year, #SocialMediaSanta managed to raise 227 gifts for Shelter Scotland to distribute and it's hoped that the total will be even higher for 2014.
View the following page, to find out more: http://uk.queryclick.com/en/thesantacause/
About QueryClick:
QueryClick is a leading UK search agency who use a blend of Search Engine Optimisation (SEO), Pay Per Click (PPC) and Conversion Rate Optimisation (CRO) to maximise Return on Investment for their clients.
Contact:
QueryClick Ltd (SC342868),
7 Castle Street,
Edinburgh
EH2 3AH
Tel: 0131 556 7078