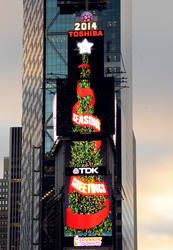 "There is no place like Times Square to kick-off the beloved holiday season," says Eddie Temistokle, Sr. Manager Corp. Communication & CSR Toshiba America Inc. "We are excited to have the Dunkin' Donuts' screen join as part of this year's display,
New York, NY (PRWEB) December 18, 2014
For the first time, four signs high atop One Times Square joined together to create the world's tallest digitally-animated, multi-colored Christmas Tree. Representatives from Toshiba Corporation and TDK U.S.A. Corporation joined in a special "5, 4, 3, 2, 1" countdown to light the digital tree which magically appeared on the Toshiba Vision, TDK, and for the first time, Dunkin' Donuts screens underneath the world famous New Year's Eve ball, on Thursday, December 18.
Encompassing four digital signs, and rising 400 feet above street level, the 204-foot digital tree utilizes state of the art graphic designs, designed for maximum visual exposure in Times Square. As it debuted, first seen in silhouette, a gradual pulsating glow behind the tree began, letting viewers know something special was in the offing. The tree began to sparkle, while another Times Square tradition, a special countdown, slowly appeared. As the countdown got to "1," thousands of white lights shimmered, with the new rotating tree getting brighter and brighter in sparkling lights as a sash with "Season's Greetings" enveloped it.
"There is no place like Times Square to kick-off the beloved holiday season," says Eddie Temistokle, Sr. Manager Corp. Communication & CSR Toshiba America Inc. "We are excited to have the Dunkin' Donuts' screen join as part of this year's display, creating the world's tallest digital Christmas Tree!"
"We are delighted to be part of this holiday tradition, joining Toshiba and TDK to create the world's tallest digital Christmas Tree," said John Costello, President, Global Marketing and Innovation, Dunkin' Brands. "Times Square is the perfect place to celebrate the holiday season in such a powerful and visual way."
"TDK is always thrilled to be a part of this holiday tradition in Times Square, the magnificent digital Christmas Tree, which gives holiday cheer to all passing through the crossroads of the world," says Frank Sweeney, President and CEO, TDK U.S.A. Corporation.
The tree will decorate the winter sky and set the mood for the holiday season in Times Square from December 18, 2014 to January 13, 2015, appearing on the screens every 5 minutes, 24 hours a day.
###
About Toshiba
Toshiba Corporation, a Fortune Global 500 company, channels world-class capabilities in advanced electronic and electrical product and systems into five strategic business domains: Energy & Infrastructure, Community Solutions, Healthcare Systems & Services, Electronic Devices & Components, and Lifestyles Products & Services. Guided by the principles of The Basic Commitment of the Toshiba Group, "Committed to People, Committed to the Future", Toshiba promotes global operations towards securing "Growth Through Creativity and Innovation", and is contributing to the achievement of a world in which people everywhere live in safe, secure and comfortable society.
Founded in Tokyo in 1875, today's Toshiba is at the heart of a global network of over 590 consolidated companies employing over 200,000 people worldwide, with annual sales surpassing 6.5 trillion yen (US$63 billion).
To find out more about Toshiba, visit http://www.toshiba.co.jp/index.htm
About TDK Corporation
TDK Corporation is a leading electronics company based in Tokyo, Japan. It was established in 1935 to commercialize ferrite, a key material in electronic and magnetic products. TDK's portfolio includes electronic components, modules and systems* marketed under the product brands TDK and EPCOS, power supplies, magnetic application products as well as energy devices, flash memory application devices, and others. TDK focuses on demanding markets in the areas of information and communication technology and consumer, automotive and industrial electronics. The company has a network of design and manufacturing locations and sales offices in Asia, Europe, and in North and South America. In fiscal 2014, TDK posted total sales of USD 9.6 billion and employed about 83,000 people worldwide. Visit TDK's web site at http://www.global.tdk.com.

The product portfolio includes ceramic, aluminum electrolytic and film capacitors, ferrites, inductors, high-frequency components such as surface acoustic wave (SAW) filter products and modules, piezo and protection components, and sensors.
About Toshiba Vision
Prominently positioned below the world-famous New Year countdown ball in New York City's Times Square business and entertainment district, Toshiba's massive dual LED signboards, known collectively as "TOSHIBA VISION," serve a variety of promotional and public-service functions. In addition to illuminating the annual New Year countdown for upwards of 1 billion celebrants worldwide, the Interlocking System connects both boards in brilliant seasonal displays and animated sporting events. From atop One Times Square Building, one of the most valuable advertising locations in the world, TOSHIBA VISION ensures superb domestic and international media exposure, providing the Toshiba brand with unrivalled quantitative and qualitative promotional benefits. For more information on the TOSHIBA VISION LED signboards please visit http://www.facebook.com/ToshibaInnovation.
About Dunkin' Donuts
Founded in 1950, Dunkin' Donuts is America's favorite all-day, everyday stop for coffee and baked goods. Dunkin' Donuts is a market leader in the hot regular/decaf/flavored coffee, iced coffee, donut, bagel and muffin categories. Dunkin' Donuts has earned the No. 1 ranking for customer loyalty in the coffee category by Brand Keys for eight years running. The company has more than 11,000 restaurants in 33 countries worldwide. Based in Canton, Mass., Dunkin' Donuts is part of the Dunkin' Brands Group, Inc. (Nasdaq: DNKN) family of companies. For more information, visit http://www.DunkinDonuts.com.