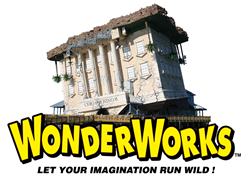 Myrtle Beach, SC (PRWEB) December 17, 2014
WonderWorks is ringing in the holiday season with an exciting Winter Wonderland event starting on December 19th and running through the 27th. The snowy celebration will include an indoor snow play area, a take-home holiday craft, a surprise meet and greet with a very well-known snow queen and princess, and much more.
"This is always one of our favorite times of year," said Regional Manager Robert Stinnett. "Our team has so much fun collaborating on these occasions for families who are here on vacation, or even our locals who are just looking for something special and festive to do during their winter break."
A variety of holiday snacks, as well as coffee and hot chocolate will be available for purchase. While all of the regular exhibits will be available, guests can upgrade their WonderWorks admission to include the event for $5.00 per child. Guests who want to stop in for Winter Wonderland exclusively, can purchase a child ticket $10.00 and receive free admission for an adult. The warm and wondrous occasion is sure to be the cure for those winter blues. As 2014 comes to a close, the team at WonderWorks Myrtle Beach hopes this event will be the perfect ending to an incredible year.
To learn more about WonderWorks, visit http://www.wonderworksonline.com/myrtle-beach/discounts/
###
The WonderWorks attraction is an "amusement park for the mind," combining education and entertainment in more than 100 hands-on exhibits that will spark the imagination and stimulate the mind. Visitors to the attraction will enjoy a variety of experiences including being blown away by 65 mile per hour hurricane-force winds, maneuvering the controls of a NASA spacecraft to land the shuttle, lying on a bed of 3,500 nails, piloting a fighter jet, riding a 360-degree virtual roller coaster, competing in a game of laser-tag and much more. Guests can also visit Soar+Explore Zipline and Ropes Course at Broadway at the Beach for an exhilarating adventure 50ft above water.