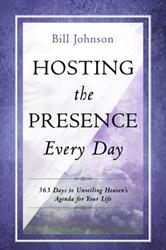 Discover how to walk in the power and anointing of the Holy Spirit.
Shippensburg, PA (PRWEB) December 18, 2014
Bestselling author Pastor Bill Johnson shares inspiring thoughts that will strengthen hearts and empower believers to live the supernatural life on a daily basis.
The Holy Spirit lives within all believers—this is a fact for every single Christian. The question is: are they experiencing the power of the Spirit resting upon them?
The Holy Spirit makes His presence known within and through the lives of believers – not just for their own sake, rather for that of all humanity – for He comes to transform the entire world.
Readers will be not just inspired – but also prepared – to experience deep intimacy with the Father, catch a fresh vision of Jesus, and discover how to walk in the power and anointing of the Holy Spirit as a "new normal." Bill Johnson writes "we are enabled to partner with the Kingdom of Heaven and see it released here on earth! The Presence of God within us will bring reformation to the world around us—encountering a loving God!"
Verses and passages of Scripture reinforce the topic covered during a particular day and the practice of daily meditation is key to the vision of internalizing and ultimately living out the biblical truths contained within this devotional. "His words are spirit and they are life! (See John 6:63.)
Prayers contained within this book help give voice to what the author intends the reader to discover everyday: that prayer – though not comprehensive – is the launching pad designed to begin communication with the Holy Spirit in terms of discoveries made as individuals begin to conscientiously host His Presence in their lives.
Join Bill Johnson on this amazing journey and begin to walk in the power and anointing of the Holy Spirit every single day, transforming the world with the help of his recently released "Hosting the Presence Every Day" daily devotional.
Interviews, review copies and giveaway copies are available upon request.
Destiny Image, located in Shippensburg, Pa, was founded in 1983 by Pastor Don Nori, Sr. It seeks to accurately represent authors who have a call to share God's present word to His people and to make these authors easily accessible to the Christian body around the world in every form of media possible.
To download a press kit, click here.
FOR PRESS INQUIRIES, INTERVIEWS AND REVIEW COPIES:
Brad Herman
(719) 439-4960
bherman(at)norimediagroup(dot)com
To join our media contacts list, click here.