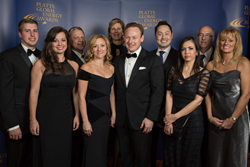 It was truly an honor to be listed among the worlds best and brightest energy companies
(PRWEB) December 18, 2014
"It was truly an honor to be listed among the worlds best and brightest energy companies," Nathan Conway, CEO of Fortis Energy Services said at the 2014 Platts Global Energy Awards held December 11th at the Waldorf Astoria in midtown Manhattan.
Conway and members of the Fortis executive team were among the nearly 500 energy executives who attended the event, emceed by CNBC television anchor Amanda Drury. Fortis Energy Services was a finalist in the Rising Star category.
Larry Neal, President of Platts hosted the black tie event and told the audience "Tonight's winners are comprised of individuals and companies from seven countries and three continents who have demonstrated that forging partnerships, developing technologies and thinking outside the box are central to meeting the challenges of geopolitical tensions, price volatility, changing trade flows and ever-evolving environmental considerations and climate change agendas,"
Although Fortis was not a winner this year, Conway said, "I see the Platts Global Energy Awards as the industry standard for their recognition of "best of the best" in the energy sector. I congratulate all the winners for their innovation, leadership and forward-thinking strategies. It is a privilege to be here tonight among my peers both winners and the finalists alike."
About Fortis
Fortis Energy Services is a leading oil and gas service provider headquartered in Bloomfield Hills, Michigan with operations throughout the Midwest and Northeastern states including: Michigan, Pennsylvania, West Virginia, Ohio, New York, Indiana, Illinois and North Dakota.
Fortis is a multi-award winning company, consistently ranked in the Inc 5000 list and named as one of the " Top 100 Energy Companies in America." The company is well known for its exceptional commitment to safety, superior equipment and best in class crews.
For Information contact: Nancy Thompson 248-496-4965 uptownpro(at)hotmail(dot)com