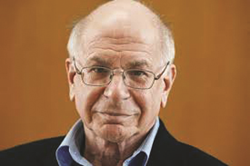 Denver, CO (PRWEB) December 17, 2014
Investment Management Consultants Association® (IMCA®) announced today that it finalized the speaker lineup for its 2015 New York Consultants Conference February 9-10 in Times Square. The day-and-a-half event features timely industry updates delivered by a host of established thought-leaders, including:

Daniel Kahneman, PhD, widely regarded as the world's most influential living psychologist and winner of the 2002 Nobel Prize in Economics for his work in behavioral economics.
Former Bank of America Global Wealth Management president Sallie Krawcheck, MBA, owner of Ellevate—a professional women's networking organization committed to economic empowerment—and recognized as the only senior Wall Street executive who reimbursed a portion of client losses for poorly performing products.
Ann Walsh, CFA®, head of portfolio construction and management at Guggenheim, who oversees more than $100 billion in fixed income investments.
Justin Paperny, author of Lessons From Prison and Ethics in Motion, a former investment executive who uses his experiences as a federal prisoner to educate others on ethics and the perils associated with white-collar crime.
More than 900 attendees are expected. Prior New York Consultants Conferences have sold out, prompting a move to a larger venue for 2015: the Sheraton New York Times Square Hotel.
Click here for more information and to view the entire speaker lineup. Journalists interested in attending should contact Ryan Hoffman at rhoffman(at)imca(dot)org or 303.850.3079.
Established in 1985, IMCA is a nonprofit professional association and credentialing organization with more than 10,000 individual members and certificants in the United States and Canada, including 400 international affiliate members. IMCA members collectively manage more than $2.477 trillion, providing investment consulting and wealth management services to individual and institutional clients. Since 1988, IMCA has offered the Certified Investment Management Analyst® (CIMA®) certification, which earned accreditation by the American National Standards Institute (ANSI) in April 2011, making it the first financial services credential in the United States to meet international standards (ISO 17024) for personnel certification. IMCA's Certified Private Wealth Advisor® (CPWA®) certification is suited for wealth management professionals working with high-net-worth clients. In 2014, IMCA conferences and workshops hosted nearly 4,000 attendees.
IMCA® and Investment Management Consultants Association® are registered trademarks of Investment Management Consultants Association Inc. CIMA®, Certified Investment Management Analyst®, CIMC®, CPWA®, and Certified Private Wealth Advisor® are registered certification marks of Investment Management Consultants Association Inc. Investment Management Consultants Association Inc. does not discriminate in educational opportunities or practices on the basis of race, color, religion, gender, national origin, age, disability, or any other characteristic protected by law.