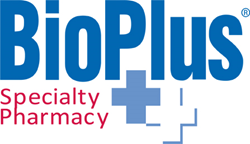 Altamonte Springs, FL (PRWEB) December 17, 2014
BioPlus Specialty Pharmacy (BioPlus), one of the nation's leading specialty pharmacies, has been selected by Pfizer Inc.'s limited distribution panel to serve as one of the few limited distribution pharmacy outlets with access to the limited distribution oncology drugs Bosulif® (bosutinib), Inlyta® (axitinib), Sutent® (sunitinib malate), and Xalkori® (crizotinib). All of these oncology medications are manufactured by Pfizer.
"As a specialty pharmacy, we have extensive experience supporting the needs of oncology patients. This starts with our 2-Hour Patient Acceptance Guarantee," explains Sharon Ferrer, Director of Pharmaceutical Contract Management for BioPlus. "a program which streamlines the treatment process for both patients and providers by guaranteeing notification to physician offices in less than two hours whether referred patients can be admitted pending insurance qualifications. Our patient care background combined with our expertise with specialized oncology treatment medications and other limited distribution drugs makes BioPlus well-suited for implementing Pfizer's limited distribution oncology medications and providing best-in-class patient care," she adds.
About BioPlus Specialty Pharmacy
BioPlus Specialty Pharmacy is the first specialty pharmacy to introduce a two hour turnaround from referral to patient acceptance. BioPlus... Where healing begins in 2 hours . Our company celebrates 25 years of excellence in specialty pharmacy, working closely with payers and the pharmaceutical industry, as well as with prescribers to get prompt treatment for patients, and directly supporting our patients nationwide to achieve optimal health outcomes. Our proprietary web tool Tap App, connects prescribers to the pharmacy by bringing the pharmacy chart into the doctor's office with real-time specialty pharmacy information and treatment monitoring.
BioPlus provides a complete range of infusion and specialty services, including for hepatitis C, cancer, bleeding disorders, and other complex, chronic conditions. BioPlus, a privately-held, pharmacist-owned company based in Altamonte Springs, Florida, is accredited by URAC, VIPPS, and the Accreditation Commission for Health Care (ACHC). More information about BioPlus is available at http://www.bioplusrx.com or toll free 1-866-514-8082.
For information: http://www.bioplusrx.com or
Contact: info(at)bioplusrx(dot)com
Phone: 1-888-292-0744
###