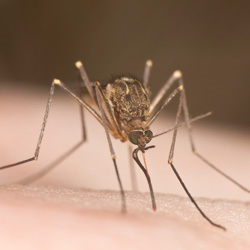 ...according to the CDC, as of December 2nd 2014, 2,002 cases of the West Nile virus have been reported.
Nashville, TN (PRWEB) January 07, 2015
Mosquitoes are more than just an annoying pest that can ruin an outdoor gathering or event with their itchy bites. They are a dangerous pest because they are responsible for transmitting a variety of diseases, including the West Nile virus.
In fact, according to the CDC, as of December 2nd 2014, 2,002 cases of the West Nile virus have been reported. Click here for more details. With the rising number of West Nile virus cases, many homeowners are actually stopping their more traditional pest control plans and instead opting for home pest control services that include mosquito mitigation services. Because of the numbers of cases of West Nile that are found throughout the U.S., this is a trend we at All-American support and encourage.
In order to prevent mosquitoes effectively, it is important to understand a bit about their traits and behavior. Both male and female mosquitoes feed on the nectar of flowering plants, but the females also feed on the blood of mammals. Female mosquitoes require the extra protein and iron that is found in blood to create their eggs. Females can detect the carbon dioxide that mammals give off as they breathe and she can sense the heat from a prey's body. She can use her vision to locate her victims. Once the mosquito hones in on a target, she uses her straw-like mouthpart (proboscis) to pierce the skin of her victim, inject a small amount of anticoagulant enzyme-laced saliva, and then extract the blood from the victim.
Mosquitoes do not screen their blood sources, so their prey could be infected with a variety of viruses, parasites, and other organisms. If the mosquito ingests infected blood, the virus or disease can replicate in their body, and then can be transferred into their next victim. Diseases that mosquitoes are known to transmit to people other than the West Nile virus include: malaria, yellow fever, dengue fever, they can also infect pets with canine heart worm.
Because of the ease with which they can transmit disease, it would be nice if mosquitoes could be completely eliminated from properties. Unfortunately, this is not possible since they live and breed outside and can travel for miles to look for food sources. Luckily, there are some things that Nashville homeowners can do around their home to help reduce the mosquito numbers, and make spending time outside more enjoyable. Mosquito prevention tips include:
-Getting rid of breeding areas. Females require water to lay their eggs, so reducing or eliminating areas of standing water will greatly limit mosquito populations on properties. Clogged gutters, low lying areas of ground, tires, soda bottles, and wheelbarrows are all examples of places where the female can utilize a bit of water to lay her eggs on.
-Limiting mosquito's food source. Limit the number of flowering plants on properties, especially areas that are located near the home.
-Make sure that grass is kept trimmed short and that overgrown vegetation is cut back. Mosquitoes like to hide in those areas during the day.
-Prevent mosquitoes from entering into your home by making sure that doors and windows are kept closed and that screens are fully intact.
At All-American, we are helping to combat mosquito populations by offering our customers mosquito mitigation services. These services provide mosquito relief by misting the landscaping, vegetation, and tree canopies close to the home and other mosquito resting and breeding spots. This combined with our perimeter exterior services will greatly help to reduce the number of mosquitoes and other household pests that are stalking Nashville homes, looking for their next home and meal.
All-American Pest Control services middle-Tennessee, is proud to be endorsed by Dave Ramsey, and is a winner of the Angie's List Super Service Award. They are an Accredited Business with the Better Business Bureau and have an A+ rating. To learn more, visit http://www.allamericanpestcontrol.com.