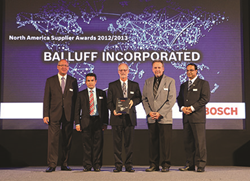 "We help our customers improve their quality of products through our error proofing and traceability solutions. We appreciate the opportunity to work closely with Bosch."
Florence, KY (PRWEB) December 18, 2014
Balluff was recently presented with the Bosch North America Supplier Award. Showing the importance to develop its supply base, Bosch celebrated this event in the heart of historic downtown of Mexico City.
During this event, a total of 16 suppliers (10 direct material and 6 Indirect material) that have performed especially in terms of quality, pricing, reliability, technology and continuous improvement. "The Bosch Supplier Award goes to outstanding suppliers who play a key role in the Bosch Group's success and further growth of Bosch in North America," said René Schlegel, president of Robert Bosch Mexico, at the presentation ceremony on November 12, 2014 at Mexico City´s "Club de Banqueros".
Kent Howard, President of Balluff, Inc. along with Joe Kempo, Southeast Sales Manager and Antonio Mendoza, President of Balluff Mexico attended the event and accepted the award on behalf of Balluff. According to Howard, "We help our customers improve their quality of products through our error proofing and traceability solutions. We appreciate the opportunity to work closely with Bosch and grow both of our businesses." Howard also stated, "At Balluff, we really try to create a culture to retain good employees, thereby retaining good customers." Howard went on to thank Joe Kempo and Antonio Mendoza for their commitment to Bosch.
In July of 2013, Balluff GmbH, was awarded with the "Bosch Global Supplier Award" by Robert Bosch GmbH in the Indirect Procurement category.
Editors: Download high resolution photos on Balluff's Flickr page.
About Bosch
The Bosch Group is a leading global supplier of technology and services. In 2013, its roughly 281,000 associates generated sales of 46.1 billion euros. (NB: Due to a change in accounting policies, the 2013 figures can only be compared to a limited extent with the 2012 figures). Its operations are divided into four business sectors: Mobility Solutions, Industrial Technology, Consumer Goods, and Energy and Building Technology. The Bosch Group comprises Robert Bosch GmbH and its roughly 360 subsidiaries and regional companies in some 50 countries. If its sales and service partners are included, then Bosch is represented in roughly 150 countries. This worldwide development, manufacturing, and sales network is the foundation for further growth. In 2013, the Bosch Group invested some 4.5 billion euros in research and development and applied for some 5,000 patents. This is an average of 20 patents per day. The Bosch Group's products and services are designed to fascinate, and to improve the quality of life by providing solutions which are both innovative and beneficial. In this way, the company offers technology worldwide that is "Invented for life."
The company was set up in Stuttgart in 1886 by Robert Bosch (1861-1942) as "Workshop for Precision Mechanics and Electrical Engineering." The special ownership structure of Robert Bosch GmbH guarantees the entrepreneurial freedom of the Bosch Group, making it possible for the company to plan over the long term and to undertake significant up-front investments in the safeguarding of its future. 92 percent of the share capital of Robert Bosch GmbH is held by Robert Bosch Stiftung GmbH, a charitable foundation. The majority of voting rights are held by Robert Bosch Industrietreuhand KG, an industrial trust. The entrepreneurial ownership functions are carried out by the trust. The remaining shares are held by the Bosch family and by Robert Bosch GmbH.
Additional information is available online at http://www.bosch.com
About Balluff
Balluff Inc., the U.S. subsidiary of Balluff GmbH, Neuhausen, Germany, is a leading manufacturer of a wide range of inductive, photoelectric, vision, capacitive and magnetic sensors as well as linear position transducers, RFID systems, and networking products. Balluff products for OEM and factory floor solutions are used to control, regulate, automate, assemble, position, and monitor manufacturing, assembly, and packaging sequences for industries including: metalworking, automotive, plastics, material handling, wood processing, aerospace, alternative energy, medical, electrical, and electronics. For more information, visit http://www.balluff.us