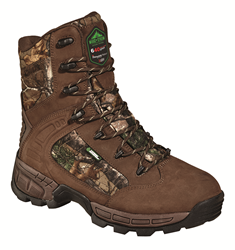 Merrill, Wis. (PRWEB) December 18, 2014
Giving hunters the tools to outsmart an animal's keen sense of smell, two companies have teamed up to offer the footwear industry's newest odor-control technology. Weinbrenner Shoe Company has partnered with 3M to implement its innovative 3M Platinum odor control insulation technology in a selection of the 2015 collections for Wood N' Stream. The 3M Platinum technology will be available Fall 2015 to a variety of Wood N' Stream lines including the Instigator,Gunners, Maniac, Navigator, and Endeavor Extreme series. In addition to the 3M Platinum technology, Wood N' Stream will release more American-made styles to include eight different lines of high-quality footwear in 2015.
Serving outdoorsmen with durable, comfortable, and highly innovative footwear for nearly 60 years, the Weinbrenner Shoe Company's Wood N' Stream division continues to provide a one of a kind experience for its customers. Known as a pioneering force in the footwear industry, Wood N' Stream stands by the tradition of making boots that are meant to withstand the harshest weather conditions. The new 3M Platinum insulation adds next level innovation to Wood N' Stream's product line.
"With our 3M partnership and new additions to the American made series, we've truly set ourselves apart as leaders in the outdoor footwear industry," said Patrick Miner, president of Weinbrenner Shoe Company. "We are constantly focused on offering the best footwear experience to our customers that can't be found anywhere else. No other shoe manufacturers have multiple styles using 3M Platinum odor control technology."
The addition of the new 3M Platinum odor control technology is a major benefit to hunters. Offering both peace of mind and stress-free preparation before a hunt, these boots will not carry any human smells that may alert game.
With availability starting in Fall 2015, Wood N' Stream boots featuring the new 3M Platinum techology can be seen in series including the Instigator, Maniac, Gunner, Mountain Ridge, Endeavor Extreme, and Navigator. Also beginning in 2015 the Wood N' Stream American collection will feature eight series including the 1957 Original, Pitstop, Tradition, Grindstone, Bison, Cutthroat, Classic, Navigator, and Kangaroo.
Wood N' Stream is also an exhibitor at this year's National Shooting Sports Foundation Shooting, Hunting, Outdoor Trade Show in Las Vegas, NV from January 20-23, 2015 and will be located at booth number 20040. For more information on Wood N' Stream, please visit:
http://www.weinbrennerusa.com/dspNavCategory.cfm?rootID=124
###
About Wood N' Stream:
Established in 1957, Wood N' Stream is a brand of outdoor footwear made by Weinbrenner Shoe Company, based in Merrill, Wisconsin. Wood N' Stream offers a wide range of boots for any outdoor pursuit, with a variety of lines, including the American Heritage collection that is made in the USA, the Instinct VGS Series, ELX/LTT Series, Cold Weather Series, Flyway Series, and the new Maniac hunting line. Winning this year's Outdoor Life Magazine Editor's Choice Award for its Navigator Series boot, Wood N' Stream offers proven comfort and performance technologies, including Goodyear welt construction, 3M Thinsulate Ultra Insulation, Scotchguard Defender waterproofing, Visible Gel System insole, and new 3M Platinum odor control technology.