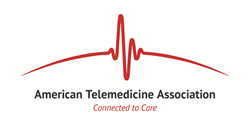 Washington, DC (PRWEB) December 17, 2014
The American Telemedicine Association (ATA) recently released Practice Guidelines for Live, On Demand Primary and Urgent Care. The document provides guidance on specific clinical applications, practice, benefits, limitations, and regulatory issues pertaining to the delivery of telemedicine.
The Practice Guidelines for Live, On Demand Primary and Urgent Care are available for download here.
"These guidelines are designed to ensure patient safety as the use of online services for primary and urgent care continues to rise," said Jonathan Linkous, CEO of ATA. "We believe these guidelines will prove to be another milestone in the transformation of healthcare delivery."
The guidelines were developed by a diverse group of individuals including members of ATA's Practice Guidelines Committee, Guidelines Work Group and ATA Staff. Extensive reviews and comments concerning the guidelines were received from medical societies, health systems, provider groups, healthcare companies, medical boards and government agencies.
ATA's series of practice guidelines for telemedicine are the critical foundation for the deployment of telemedicine services throughout the world. They form the basis for uniform, quality patient care and safety and are all grounded in empirical research and clinical experience. The establishment of such guidelines also accelerates the adoption of telemedicine by payers, administrators and providers who are full partners with ATA in their development. To date, ATA has published 13 practice guideline documents, covering an array of best practices in telemedicine. All ATA practice guidelines are available free of charge and can be downloaded here.
About the American Telemedicine Association
The American Telemedicine Association, a non-profit 501(c)(3) organization, is the leading resource for the delivery of healthcare using telecommunications technologies. ATA and its diverse membership of medical institutions, professionals and healthcare and technology companies work together to guide the use of telemedicine to improve quality, equity and affordability of healthcare throughout the world. Established in 1993, ATA is headquartered in Washington, DC. For more information, visit http://www.americantelemed.org.