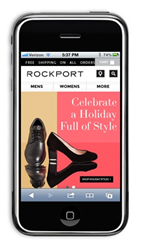 The look and feel of our new mobile site incorporates design and features that position Rockport to deliver an improved experience to our customers and leverage the momentous growth we are seeing in the channel
Boston, MA (PRWEB) December 18, 2014
Rockport recently launched a redesigned mobile site, helping to fuel a dramatic increase in mobile commerce revenue, transactions, and average order volume over the big Holiday Shopping weekend.
The new mobile commerce site was designed to eliminate friction and provide a better experience for the mobile consumer, incorporating a number of new features and interaction flows, purpose-built for the mobile channel.
Between Black Friday and Cyber Monday 2014, Rockport saw a year-over-year mobile commerce revenue increase of 349.70%, versus the 2013 Holiday Weekend.
Unlike a responsive design site, the new Rockport mobile site is powered by a deep, API-based integration with their Demandware ecommerce platform and is purpose-built from "whole cloth" specifically to cater to their growing mobile customer base.
The redesigned mobile site recorded an average sale increase of over 60% between Black Friday and Cyber Monday compared to 2013. The total volume of orders for the big shopping weekend was also way up versus 2013, jumping 177.27%.
Rockport supported the mobile commerce site redesign and relaunch with an innovative QR Code campaign that allowed consumers to scan an in-store display and launch commerce-enabled mobile landing pages, using real consumer reviews as the trigger for the engagement.
The landing pages were designed by Unbound Commerce to mimic the in-store call to action signage, for a seamless interaction and fast path to purchase. Product options like size and color are selected in the context of the landing page and then dropped deep into the mobile checkout flow.
"This Q4, we wanted to support our retail team, giving them an interactive mobile tool to kick start customer engagement and conversation around product reviews", said Kimberley Correia Hunt, Director of Global eCommerce at Rockport.
"The look and feel of our new mobile site incorporates design and features that position Rockport to deliver an improved experience to our customers and leverage the momentous growth we are seeing in the channel. Supporting the launch with commerce-enabled landing pages triggered by QR codes was a great way to help bridge the gap between online and offline sales. The growth numbers we saw are beyond fantastic", she added.
About Rockport
In 1971, Rockport started with a simple philosophy: Engineer comfortable shoes using the latest in advanced technologies. Rockport was the first to engineer performance walking comfort in casual and dress shoes. 40 years later, Rockport continues to make style comfortable for metropolitan professionals around the world and create collections that are sophisticated and stylish without compromising comfort or functionality. Rockport is a subsidiary of the Adidas Group. For additional information, please visit http://www.Rockport.com.
About Unbound Commerce
Unbound Commerce is the industry's #1 provider of mobile commerce solutions for online retailers. Unbound's unique, low-IT hybrid approach means an ecommerce integration can be leveraged to deliver mobile commerce, tablet commerce, commerce-enabled apps, and in-store engagement. Unbound also equips each mobile site with marketing tools to help retailers and brands bridge online and offline consumer touch points, at point of sale. Unbound has built and deployed dedicated, integrated mobile and tablet sites for Cali and York, Patrick James, Monster Cables, Shoe Carnival, Rockport, Finish Line, FLOR, Miller Coors, Adam and Eve, Joma Shop, The New England Patriots, Cavenders, and over 380 other retailers. For additional information, please visit http://www.UnboundCommerce.com.