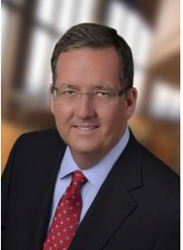 "I am honored to join the Rainmaker board."
ATLANTA, GA (PRWEB) December 18, 2014
The Rainmaker Group, the market leader in automated profit optimization software and services for the multifamily housing and gaming/hospitality industries, is pleased to announce the appointment of Kevin Costello to its Board of Directors.
Costello has more than 25 years serving in executive leadership roles, including most recently a dozen years with Ariba, Inc., a Sunnyvale, Calif. developer of best-in-class software-as-a-service (SaaS) applications, purchased by SAP in 2012. He was President from 2007 until its acquisition by SAP in 2012, and President of Ariba, an SAP Company, from 2012 until 2014.
He was also Global Managing Partner for Andersen Business Consulting and one of six members of the Consulting Executive Leadership Team. Costello has also served as a Director of Cbeyond, Inc., a telecommunications and information technology company, and was the chair of its Compensation Committee and a member of its Audit Committee. A graduate of the University of Illinois, today he is a Certified Public Accountant and serves as Vice Chairman of the Technology Association of Georgia.
"Kevin is a longtime trusted advocate of the industries for which we provide our products and services, so it is a great pleasure to welcome him to our board," said Bruce Barfield, Rainmaker CEO and Co-Founder. "Attracting and retaining people like Kevin who have a tremendous reservoir of relevant experience and knowledge will only continue to accelerate our business. His appointment will enable us to further capitalize on the many opportunities we are pursuing."
Costello joins Rainmaker at an exciting time in its history, as the company continues to grow at a rapid pace. Earlier this year, Rainmaker earned a spot on Inc. magazine's exclusive list of the nation's fastest growing private companies for a fourth consecutive year. Driving this year's No. 2745 ranking was Rainmaker's three-year revenue growth of 136 percent, up another six percent over its 130 percent gain from a year ago. Rainmaker is one of only 10 software companies in the eleven-state southeast region of the U.S., and one of only 37 software companies in the entire country, to earn a spot on the Inc. 5000 list four times.
"I am honored to join the Rainmaker board," said Costello, also a director for Vantiv, Inc. and Financial Force. "If you trace Rainmaker to its roots, you'll see evidence of a company that continually stays on the leading edge of profit optimization software. I'm excited to not only join this customer-centric market leader, but to begin working immediately on strategies that will strengthen Rainmaker's solid leadership position within the industries it currently serves. I look forward to contributing quickly and meaningfully on a variety of key initiatives. We have a lot of big plans for 2015 and beyond."
Costello joins General Partner Jon Kossow and Principal David Su on the Rainmaker board. Kossow and Su are top executives of Norwest Venture Partners (NVP), a multi-stage global investment firm that, for more than 50 years, has actively partnered with and funded over 500 companies since its inception.
##
About Rainmaker
The Rainmaker Group is the market-leading provider of automated revenue management and profit optimization software solutions for the Gaming, Hospitality and Multifamily Housing industries. An innovator and thought leader in the highly specialized revenue optimization field, Rainmaker leverages cutting-edge research in order to bring clients the most sophisticated systems and help them achieve the highest profitability from their assets. Gaming/Hospitality clients include leading organizations such as Atlantis The Palm Dubai, Caesars Entertainment, MGM Resorts International, Omni Hotels & Resorts, Wynn Las Vegas and many others. Multifamily housing clients include leaders such as AvalonBay Communities, Equity Residential, Gables Residential, Post Properties, MAA and more. Rainmaker is a Microsoft Silver Certified Partner headquartered in northern Atlanta, GA, and has for four years running ranked on the Inc. 5000 list among America's top fastest growing, privately held companies. For more information, visit http://www.LetItRain.com.