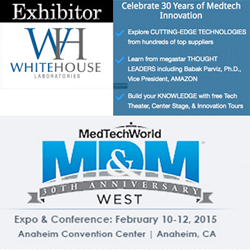 The opportunity to attend the MD&M West Medical Device Conference will enable us to further serve our key medical device clients"
Anaheim, CA (PRWEB) January 16, 2015
Whitehouse Laboratories is excited to announce that it will be participating and sponsoring at the upcoming Medical Design and Manufacturing (MD&M) West event and conference being held on February 10th through the 12th at the Anaheim Convention Center in Anaheim, California. With a comprehensive agenda that includes key areas such as Manufacturing Equipment, Contract Manufacturing, Design Services, Electronic Components, Medical Grade Materials, Packaging & Labeling, and 3D Printing, the event will enable key Whitehouse Laboratory team members to consult with current clients and introduce our extensive service portfolio to new audiences.
"Attending MD&M West enables us to further serve our medical device manufacturer clients" states Whitehouse Labs COO Mark Stier. "Not only do we have the chance to meet face to face with key clients, but our engineers will have the opportunity to keep abreast of the newest and best technologies under development. Whitehouse Labs advocates education in the packaging industry – adding to our knowledge base only helps us to better support our clients."
Added Nina Brown, Event Director, North American Events, "MD&M West is pleased to welcome Whitehouse Laboratories as an exhibitor this year. MD&M West attendees will have the opportunity to experience first-hand hundreds of the most cutting-edge medical technology products from top suppliers."
Celebrating the 30th Anniversary of MD&M West, this year's conference will enable attendees to get the latest information on top-level developments in the industry. Attendees will hear from the industry's brightest and gain valuable insights that will help them overcome the most crucial challenges from concept to market. The annual industry gathering also offers the opportunity to build your knowledge and your network. Key Speakers include Todd M. Zielinski, Ph.D. Senior Principal Scientist, MEDTRONIC, Steve Abrahamson, Director, Product Security Engineering at GE HEALTHCARE and Paul Brody, Vice President, IBM.
As an FDA regulated organization, Whitehouse Labs' ISTA and ISO 17025 certified laboratory, offers our client's personal service and access to the accumulated knowledge of seasoned Packaging and Medical Device Professionals. We offer the most up to date test methods and access to the most modern equipment from industry leaders such as Lansmont, Instron, and PTI Inspection Systems. Whitehouse services cover a wide range of testing from orthopedics, prefilled syringes, inhalers, cardiovascular devices, auto-injectors, simulated distribution, medical device material qualification to container closure integrity (CCI). Whitehouse Laboratories is here to support your products for commercialization around the world.
Please stop by and visit us at Booth #977 to talk to speak with our engineers about your ISO 11607 or USP 1207 testing needs. For additional information on attending the conference, please visit http://www.mdmwest.com
About Whitehouse Laboratories
The leader in testing, Whitehouse Labs offers comprehensive analytical services - providing support for manufacturing from development to market. From analytical chemistry and material qualification to packaging optimization, Whitehouse Laboratories is the testing partner for the world's leading Pharmaceutical, Biotechnology, Medical Device, Life Sciences and Consumer Products organizations.
About MedTech World
MedTech World educates, inspires and delivers results for the community involved in the design, development and manufacturing of medical devices and technologies. As the market leader, MedTech World is dedicated toproviding event, media, networking and marketing solutions with the highest quality content, latest news, information and resources for medical manufacturers and suppliers that connect this community in its efforts to develop critical healthcare products that save lives and enhance the quality of life.