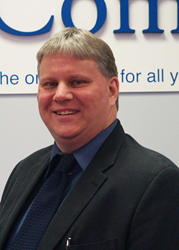 We now consider ourselves in the running for one of the fastest growing technology providers in the U.S.
CHICAGO (PRWEB) December 18, 2014
Ace Technology Partners, one of the leading workstation/server resellers in the U.S., just announced a record $22 million in first year NETCENTS 2 sales. The orders were primarily for networking/datacenter equipment including desktops, workstations and servers. The government/military contract generated orders from organizations across the U.S., including some of the most strategic military facilities. Large orders included:

Dell Workstations/Servers
Fidelis Security Products and Services
Brocade Networking Solutions
RELM Radios
Ace Powerworks Servers
EMC Storage
Ace Computers CEO John Samborski said, "2014 has been an extremely busy year for us. Aside from the NETCENTS 2 business, we have had large orders from educational institutions, law enforcement agencies, and private industry."
The purpose of the NETCENTS 2 contract is to provide federal agencies including the U.S. Air Force and Department of Defense, with an approved, proven source for standardized networking equipment, supplies and related services. NETCENTS 2 contracts are the USAF's primary source of IT products, services and solutions. The total value of the seven-year NETCENTS 2 contract is more than $24 billion.
Technology products that Ace Technology Partners is authorized to sell through NETCENTS 2 include servers, storage, networking equipment, peripherals, multimedia, software, and identity management/biometric hardware and software.
"We have so much to be grateful for this year and our expanding roster of loyal clients—some of which have been with us for 30 years--tops the list," Samborski said. "We now consider ourselves in the running for one of the fastest growing technology providers in the U.S."
Acknowledged as the best custom technology manufacturer and reseller, Ace Technology Partners is a Woman-Owned Small Business operating in both the public sector and commercial sector. Its channel partners include Intel, Supermicro, NVIDIA, Mellanox and Samsung among others. The company has been an industry leader since 1983. In addition to some of the finest academic institutions in the U.S., long-term clients include the U.S. Department of Energy and the U.S. Department of Defense. Its principal, recognized industry expert John Samborski, is an alumnus of Intel's prestigious board of advisors. In addition to its Greater Chicago headquarters, Ace Technology Partners has locations in New Jersey, Pennsylvania and Colorado. To contact Ace Technology Partners, call 1-877-223-2667 or 1-847-952-6900 or visit http://www.acetechpartners.com.