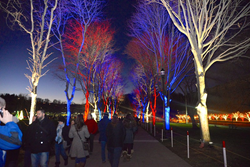 White Plains, NY (PRWEB) December 18, 2014
Begin 2015 in Westchester County with something for everyone to enjoy. There's a line-up of fun-filled events and spectacles that will make the winter season memorable as the New Year arrives.
From quick day trips to extended long weekends, Westchester County, the heart of the Hudson Valley, is an easily accessible destination for year-round activities.
"From an array of New Year's Eve celebrations to outdoor activities, Westchester County offers countless ways to enjoy the winter season going into 2015," said County Executive Robert P. Astorino. "We're positive your visit to Westchester will be filled with excitement as you start off the New Year."
Upcoming activities and events are highlighted below:
NYE Entertainment
Light up the night at the 15th Annual New Year's Eve Spectacular in White Plains starting at 10:00 p.m. on Wednesday, December 31. This is the biggest outdoor stage event in Westchester that will usher in the New Year. Main and Court Streets will be closed off so that hundreds of locals and visitors can be entertained with a stage with live music and fun for both adults and children. The night will continue with a countdown to the New Year, a magnificent ball drop and a fireworks show at midnight. For New Year's Eve Spectacular attendees 21 years and older, Heineken USA will provide free rides to residential destinations within Westchester County at the Safe Rides transportation stand on the corner of East Post Road and Mamaroneck Avenue between 11:00 p.m. and 3:00 a.m.
Or, put dancing shoes on for the New Year's Eve Dance Party at the Holiday Inn Mt. Kisco. Starting at 9:00 p.m. on Wednesday, December 31, guests can party all night for $75 in advance or $85 on the day of the event. The price includes a three-hour open bar until midnight, a live DJ with dance music until 2:00 a.m., a 2015 Midnight Celebration with a champagne toast, a tapas style menu and Chef's Action Stations until 11:00 p.m., as well as a dessert and coffee bar. Reserved seating is available upon request for parties of eight or more with advance ticket purchase. Overnight accommodations are available for an added rate. The Holiday Inn Mt. Kisco is located at 1 Holiday Inn Drive in Mt. Kisco. For more information, visit http://www.himtkisco.com or call (914) 241-2600.
The Winery at St. George is also having a celebration to welcome 2015. On Wednesday, December 31, the Winery will host its New Year's Eve Gala starting at 8:30 p.m. For $150 per person, attendees will enjoy an open bar with wine, beer and non-alcoholic beverages available from 9:00 p.m. to 1:00 a.m. Champagne will be available at midnight. Enjoy watching the ball drop, music, continuous hors d'oeuvres and tapas. There will also be a signature Venetian dessert hour for guests. There are limited tables and all seating is at a first come first served basis. The Winery at St. George is located at 1715 Main Street in Mohegan Lake. For more information, visit http://www.thewineryatstgeorge.com or for reservations, call (914) 455-4272.
Zuppa in Yonkers is also hosting a New Year's EVE Bash. Starting at 8:00 p.m. on Wednesday, December 31, the restaurant will provide an elaborate cocktail hour in the Lounge Bar area featuring a raw bar, elaborate Italian food stations and passed Antipastini followed by a four-course meal. There will be a live DJ with entertainment all evening and full open bar privileges for $135 per person for adults (tax and gratuity not included) and $67.50 for children. Zuppa is located at 59 Main Street in Yonkers. For more information, visit http://www.zupparestaurant.com or call (914) 376-6500.
Outdoor Adventures
Howl in the New Year with winter wolves and start the year off with a family fun day at the Wolf Conservation Center in South Salem on January 1 at 11:00 a.m. Kids will learn about the mythology surrounding wolves and the important role of wolves in the natural world. Guests will visit Ambassador wolves Atka, Alawa and Zephyr as well as the center's critically endangered red wolves and Mexican gray wolves. Pre-registration is required. Information and registration are available at http://www.nywolf.org, where a schedule of year-round events is listed.
In February, don't miss Teatown's River EagleFest at Croton Point Park. Winter is the time of year when bald eagles return to the Hudson Valley in large numbers. The eagles tend to congregate while crossing the Croton River on Rte. 9A. Join Teatown's 11th celebration on Saturday, February 7. Amazing live raptor shows will be held throughout the day. Additional activities range from guided and independent eagle viewing, bus tours, storytelling, a tent with children's programs and activities, bird walks and displays from 30 area organizations. Entertaining and educational shows take place all day under heated tents and food for purchase will be provided by the Wobble Café. Parking is free at the park. For more information and to purchase a discounted general admission ticket, visit http://www.teatown.org.
Don't miss the first-ever Westchester's Winter Wonderland that has transformed the iconic Kensico Dam Plaza in Valhalla into a festive wonderland. Included are more than 2.5 million glittering LED lights choreographed to holiday music; an outdoor recreational ice skating rink (skating and skate rentals are an additional cost); boutique vendors; photos with Santa Claus; winter hay rides; the Wonderland Express ride; and a heated indoor food court offering a variety of dining options, wine and beer. Westchester's Winter Wonderland continues through Sunday, January 4. For more information call (914) 231-4548 or visit http://www.wwinterwonderland.com.
Come to Westchester to bowl with special group rates for families and friends. Grand Prix New York Go Kart Racing & Bowling is featuring discounts for groups of six people or more. On December 31 from 5:00 p.m. to 8:00 p.m. Groups of six or more can bowl for $250 for family lanes and $300 for VIP lanes. This package includes one lane of bowling, glow products for VIP reservations, one free 10-credit arcade card per person, draft beer and wine open bar, free shoe rentals, one free race per person, appetizer buffet and free soft drinks for kids. Also, there will be free access to the Bouncy Castle for anyone 8 years old and under. Grand Prix New York Go Kart Racing & Bowling is located at 333 North Bedford Rod in Mount Kisco. For more information, call 914-358-3616, visit http://www.gpny.com/ or email sales@gpny.com.
Stay & Play
For last-minute holiday fun, take a trip over to Doral Arrowwood for its Santa Package on Friday, December 19. Santa invites guests for milk and cookies and a holiday film festival on Friday night by the Giant Gingerbread House. The next day, guests wake up to join Santa in the Atrium for breakfast between 8:00 a.m. to 11:00 a.m. Enjoy a bountiful breakfast while Santa mingles. Don't forget to bring a list for Santa! Starting at $149, this package includes overnight accommodations, a Santa breakfast for two adults and two children, Friday night milk and cookies, Friday night family holiday movies (Rudolph the Red Nosed Reindeer and Elf for the children, and It's a Wonderful Life for adults), late check-out at 1:00 p.m., complimentary self-parking and complimentary shuttle to and from the Westchester Mall from 5:00 p.m. to 10:00 p.m. Friday night for last-minute shopping. The Doral Arrowwood is located at 975 Anderson Hill Road in Rye Brook. For more information, visit http://www.doralarrowwood.com or to make reservations for the Santa Package, call (855) 412-4805.
Looking for an adult party with mystery for New Year's Eve? Then you'll get a kick out of the DoubleTree by Hilton Tarrytown's annual New Year's Eve Murder Mystery Celebration on December 31. Actors and actresses from The Killing Kompany dress in costume and put on a crime scene performance for guests during dinner while the guests try to solve the case. At $379 per couple, this package includes overnight guest accommodations; cocktail hour with the characters in costumes and passed hors d'oeuvres; a buffet dinner; DJ and dancing; a champagne toast at midnight; as well as a breakfast buffet on New Year's Day. There is limited availability and reservations are required. For more information, call 914-524-6404.
For the latest events and happenings in Westchester, log onto http://www.visitwestchesterny.com, like us on Facebook (facebook.com/westchestercountytourism), follow us on Twitter @westchestertour or call 1-800-833-9282. To view the Westchester County Destination Guide, please visit http://digital-editions.mediatwo.com/westchester-destination.
About Westchester County Tourism & Film
Tourism & Film is Westchester County's official destination marketing organization. Its mission is to generate economic benefits by enhancing the image and promoting Westchester County as a premier business and leisure destination in the Hudson Valley region. The Tourism & Film Office in Westchester County is a division within County Executive Robert P. Astorino's Office of Economic Development.