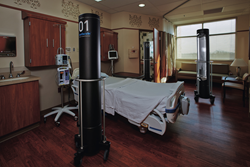 Naperville, IL (PRWEB) January 06, 2015
Premier, Inc., a leading healthcare improvement company, has awarded SURFACIDE, LLC participation in a multi-source group purchasing agreement that includes its Helios™ UV-C Triple Emitter Disinfection Technology. The three-year contract became effective November 15, 2014 and the award represents a multi-million dollar growth opportunity for the two companies over the contract period.
"We are extremely pleased to have been selected to partner with Premier to benefit all of its alliance members," said Gunner Lyslo, founder & chief executive officer of SURFACIDE, LLC. "Participation in this contract, which provides outstanding value to Premier members, also represents an opportunity to offer significant clinical and economic impact benefits through the reduction of multi-drug resistant pathogens that virtually all health care providers must deal with daily"
Under the agreement, the patented Surfacide Helios technology will be the only triple emitter UV-C disinfection system offered by Premier to its clients.
Surfacide's proprietary triple emitter approach overcomes the challenges facing all single emitter UV-C systems -- shadows, distance and disinfection cycle time. Recent data indicate Surfacide can introduce effective energy dosage in significantly less time when compared to all single emitter systems at a very competitive cost. Incorporating multiple emitters offers the maximum reduction or eradication of bacteria, virus and spore in the least amount of time by reducing shadows and distance in the targeted area throughout a room.
Surfacide's Helios systems are in use worldwide by nearly 50 healthcare facilities. Its UV-C triple emitter disinfection technology is able to disinfect the hard surfaces in a room or O.R., while minimizing missed areas due to shadows by providing multiple UV-C light towers that can be placed simultaneously in several areas of a room while working in tandem. In addition, the light emitters can be decoupled providing 3 times the equipment. The process results in helping eliminate shadows and eliminating the labor demands of moving single emitters in multiple locations throughout the room. The mobile three-tower system is easily transported by an interlocking cart, which can be loaded and unloaded by a single operator. The system is controlled remotely, such that during activation of the system, no operator is present, and sensors automatically cut power to all towers in the event that a person enters the room or other motion is sensed.
About Surfacide
Surfacide, LLC is the designer of UV-C disinfection systems. Surfacide's mission is to develop and provide the most effective technology and provide a solution to combat Health Care Acquired Infections (HAI's). Surfacide specializes in providing evidence-based solutions that target the reduction of pathogens and causative agents of infectious diseases with primary focus toward the control of emerging "super bugs" in the health care space such as C.diff, CRE, MRSA, VRE and Acinetobacter. http://www.surfacide.com.
About Premier, Inc.
Premier, Inc. is a leading healthcare improvement company, uniting an alliance of approximately 3,400 U.S. hospitals and 110,000 other providers to transform healthcare. With integrated data and analytics, collaboratives, supply chain solutions, and advisory and other services, Premier enables better care and outcomes at a lower cost. Premier, a Malcolm Baldrige National Quality Award recipient, plays a critical role in the rapidly evolving healthcare industry, collaborating with members to co-develop long-term innovations that reinvent and improve the way care is delivered to patients nationwide. Headquartered in Charlotte, N.C., Premier is passionate about transforming American healthcare. Please visit Premier's news and investor sites on http://www.premierinc.com; as well as Twitter, Facebook, LinkedIn, YouTube, Instagram, Foursquare and Premier's blog for more information about the company.