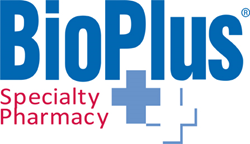 Altamonte Springs, FL (PRWEB) December 18, 2014
BioPlus Specialty Pharmacy (BioPlus), one of the nation's leading specialty pharmacies, has an expanded team of Regional Pharmaceutical Care Liaisons who serve as clinical pharmacy consultants for prescriber offices in their regions, with specific areas of disease therapy expertise.
"We have a variety of Regional Pharmaceutical Care Liaisons specializing various disease therapies. For example, those specializing in hepatitis C help prescribers understand all the new hepatitis C treatments now available and support them in making the best decisions for their patients," explains Bill Cook, Vice President of Sales at BioPlus.
The BioPlus Specialty Pharmacy Regional Pharmaceutical Care Liaison team includes:
Gina D'Aiello, P.A., Senior Regional Clinical Liaison for New Jersey, has a background that includes being a Physician Assistant and working in a hepatitis C clinic. D'Aiello has practiced in this field for 14 years, providing patient-centered medical care and education to diverse populations in New York City. In addition, she previously developed and served patients at a hepatitis C clinic in Brooklyn, New York, where her motivational counseling techniques successfully managed adverse effects while resulting in higher cure rates than the national average for hepatitis C.
Michael Bray is the Regional Clinical Liaison for Washington, Oregon, Idaho, and Utah. Bray will focus on key account strategies, managed care penetration, and pharmaceutical relationships as he works with the inside sales team to support the Pacific Northwest. Most recently Bray was a hepatitis C therapeutic specialist with Vertex and for five years before that he was a hepatitis C therapeutic specialist with Gilead. He holds a Bachelor of Arts degree from Northern Arizona University.
Susan Bowab, M.A., Regional Clinical Liaison for North Carolina and Virginia, focuses heavily on the hepatitis C treatment area. She has been a hepatitis C coordinator at one of the busiest practices in Virginia for the last 12 years.
Abby Drury, R.N.,B.S.N., Regional Clinical Liaison for South Carolina and Georgia, has a clinical sales background and now focusing on hepatitis C prescribers, pharmaceutical relationships, and managed care. Previously she was a Clinical Educator for another specialty pharmacy.
Paul Goldberg, Regional Clinical Liaison for Connecticut, previously worked for the past four years at Otsuka Pharmaceuticals. Prior to that, Paul spent 17 years with Shering-Plough/Merck in sales, where he was a Diamond Club winner for being in the top 1% in the country. He holds a Bachelor in Science degree in Marketing.
Kristen Van Orman, Regional Clinical Liaison for Eastern Florida, spent five years with Accredo as an Account Sales Executive in Florida. She exceeded her goals every single quarter while she was with them and was a President's Club winner three years in a row. Van Orman holds a Bachelors degree in Sociology from the University of Florida.
Debbie Gill, R.N., B.S.N., Regional Clinical Liaison for Western Florida, was previously with Bristol-Myers Squibb as a Territory Business Manager and prior to that she was a Hepatology Sales Specialist for PSI in the Tampa area. Additionally, she worked as a nurse and a Diabetes Educator at Tampa General for 12 years.
About BioPlus Specialty Pharmacy
BioPlus Specialty Pharmacy is the first specialty pharmacy to introduce a two hour turnaround from referral to patient acceptance. BioPlus... Where healing begins in 2 hours. Our company celebrates 25 years of excellence in specialty pharmacy, working closely with payers and the pharmaceutical industry, as well as with prescribers to get prompt treatment for patients, and directly supporting our patients nationwide to achieve optimal health outcomes. Our proprietary web tool Tap App, connects prescribers to the pharmacy by bringing the pharmacy chart into the doctor's office with real-time specialty pharmacy information and treatment monitoring.
BioPlus provides a complete range of infusion and specialty services, including for hepatitis C, cancer, bleeding disorders, and other complex, chronic conditions. BioPlus, a privately-held, pharmacist-owned company based in Altamonte Springs, Florida, is accredited by URAC, VIPPS, and the Accreditation Commission for Health Care (ACHC). More information about BioPlus is available at http://www.bioplusrx.com or toll free 1-866-514-8082.
For information: http://www.bioplusrx.com or
Contact: info(at)bioplusrx(dot)com
Phone: 1-888-292-0744
###