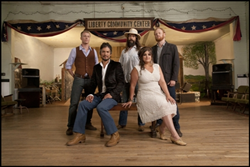 Fairfield, CT (PRWEB) December 17, 2014
Fairfield Theatre Company is thrilled to welcome the roots rock band, The Black Lillies, to StageOne at 7:30 p.m. on Sunday, Dec. 14.
Formed in Knoxville, Tennessee in 2009 by singer, songwriter and multi-instrumentalist Cruz Contreras (formerly of Robinella & the CC Stringband), The Black Lillies exhibit a fresh blend of bluegrass, jazz, rock and country blues with just the right touch of string band Appalachia. Their debut album "Whiskey Angel" was recorded largely in Contreras' living room and independently released by the band in the spring of 2009. It quickly garnered positive critical attention including air play on a multitude of stations across the country as well as management and booking agency Fleming Artists.
Featuring Tom Pryor (guitar/pedal steel), Jamie Cook (drums/percussion), Robert Richards (bass) and vocalist Trisha Gene Brady, The Black Lillies have grown from a few friends sitting around campfires and living rooms, to a band that has clearly made a name for themselves largely in part to the unique sound that has led this Knoxville, Tennessee band to perform at some of music's biggest festivals, including Bonnaroo, Rochester Jazz Fest, Stagecoach and CMA Fan Fair. But that's just one part of the success this upcoming band has demonstrated, as they have also been invited to perform at the Grand Ole Opry more than 30 times — a record for an independent act.
In other words, The Black Lillies have come a long way from those early days when Contreras channeled heartache and regret into a stunning debut. Today, they're one of the best-loved bands in Americana, and as News OK says, are "fronted by the best-matched male-female vocal duo since Gram Parsons and Emmylou Harris." It sounds like an overstatement – unless you've heard The Black Lillies.
The Black Lillies are a band for the ages, diverse in rich, rootsy tunes that are performed with as much heart as technical virtuosity. This commitment to authenticity has earned them accolades from outlets as diverse as Rolling Stone Magazine, who calls them one of "the most buzzworthy new acts in country and Americana," and the Wall Street Journal, who praised their "rootsy flair," and call them "a winsome hybrid traditional enough to appeal to an Opry crowd and expansive enough to ensnare a broader audience."
Now, The Black Lillies make their triumphant return to FTC's intimate StageOne venue in support of their latest album, "Runaway Freeway Blues," which has already reached Billboard's Top 200 and dominated Americana radio, spending three months in the top five and claiming the No. 18 spot on the Americana Music Association's Top 100 Albums of 2013 (based on radio airplay). But that's not all; "Runaway Freeway Blues" was featured on dozens of magazine and websites Best of 2013 lists, including NPR, CMT, Vanity Fair, American Songwriter, Guitar World, Garden & Gun for what Entertainment Weekly calls "strong roots-folk songwriting, sweet harmonies, and charismatic indie spirit."
Come down and hear what the critics have been raving about and join Fairfield Theatre Company in welcoming back The Black Lillies as they bring their unique country blues, rock, jazz Appalachia sound that is breakneck, brazen and beautiful and carries the spirit of the open road. This band is exploding and it's only a matter of time until they become too large for this intimate venue.
Date: Sunday, Dec. 14
Doors: 7 p.m.
Show: 7:30 p.m.
Venue: StageOne;70 Sanford St., Fairfield, CT 06824
Tickets: $22 advance Member Discount: $3
Buy online: http://www.fairfieldtheatre.org
About the company:
Fairfield Theatre Company is a highly-acclaimed non-profit performing arts organization located in the heart of downtown Fairfield, Connecticut. FTC presents nearly 250 performances and concerts each year featuring outstanding national talent on FTC's StageOne in Fairfield, The Klein Auditorium in Bridgeport, and the Norwalk Concert Hall in Norwalk. FTC's intimate 200-seat StageOne concert venue is widely recognized as being one of the best places to see a live performance in the region. FTC is dedicated to providing the highest-quality arts, live entertainment and educational experiences to the communities it serves.