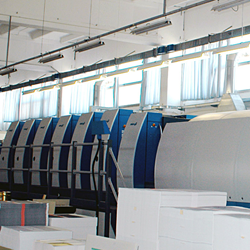 "[Velocicor] allows us to print in full color on both sides of the enelope at 800 feet [of paper] per minute."
Salem, Ohio (PRWEB) February 09, 2015
A downward trend in church attendance and a reduction in the giving of active donors have negatively impacted nearly all churches in recent years. A recent study by the Barna Group found that church budgets had fallen 7% in one year. Across the board churches have reduced staff and have searched for ways to reduce costs.
Having the benefit of four generations experience serving churches and cultivating relationships with church leaders, Church Budget Envelope Company, recognized the problem and searched for a solution. "We needed a way to help churches engage their membership and drive up giving," said Brooke Pidgeon, of Church Budget Envelope Co. "The offering envelope had remained relatively unchanged for several years and now this technology allows for consistent and affordable communication."
We brought together innovative minds from hardware companies to collaborate with our IT department to design a new printing technology capable of VDP (variable data printing) at extremely high speeds. "VDP allows each envelope to carry a different message and the new system allows us to print in full color on both sides of the envelope at 800 feet (of paper) per minute," said Pidgeon. "With this new print technology called Velocicor we could now deliver fresh content every week, personalized to the church donor."
The brand new print technology also drastically reduces printing costs and is better for the environment, creating less waste and eliminating the need for chemicals previously used to treat the paper. All these factors translate to a better quality and lower cost offering envelope for churches. Espirito Santo Parish in Fall River, Massachusetts was an early adopter of the new envelope product. Pastoral Assistant Deacon Thomas J. Souza described the results: "Since we have made the change... we have not only realized a substantial increase in the Offertory Collection but also a tremendous savings in the envelope processing costs."
"Churches serve God, so we at Church Budget are going to support them and help them grow in every way we can," Pidgeon said of the company. "We will continue improving on Velocicor and exploring new printing technologies to deliver the message in unique and powerful ways."
More info can be found on the web at Church Budget's website (http://www.churchbudget.com/velocicor) or by calling (800)446-9780.