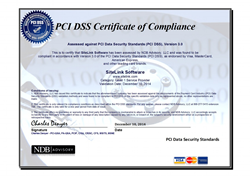 "This level of certification represents a major commitment and investment by SiteLink," said Markus Hecker, SiteLink's Chief Operating Officer. "We manage and store our customers' data in accordance with the highest security standards."
Raleigh, NC (PRWEB) December 17, 2014
SiteLink, the global industry leader in self-storage management software, announces another security compliance achievement by receiving the PCI DSS Level 1 Service Provider Certificate of Compliance.
The Payment Card Industry (PCI) Data Security Standard (DSS) is an information security standard defined by the Payment Card Industry Security Standards Council. These standards cover all aspects of cardholder data in a system and include card data entry, processing and secure payment applications. Large companies such as Amazon.com pass the PCI DSS Level 1 Certification which stands out as the highest level of certification in the payment card industry. Leading brands such as American Express, Discover, MasterCard and Visa have incorporated PCI-DSS as the technical requirements for their data security compliance programs.
"This level of certification represents a major commitment and investment by SiteLink," said Markus Hecker, SiteLink's Chief Operating Officer. "We manage our customers' data in accordance with the highest security standards." This achievement follows the recent launch of SiteLink Merchant Services™ which allows direct payment processing for SiteLink users without a third-party vendor and provides added liability protection and security.
Following the breaches in 2014, self-storage owners should ask their management software provider for their security level certificate and their process of safeguarding data. Owners should consider PCI certified software, not just PCI compliant software. Software companies can claim PCI compliance without undergoing third party audits under the PCI Council jurisdiction. To protect their interest, owners should check their software provider's actual PCI Certificate validating audit completion and proper network security standards.
SiteLink's PCI DSS Level 1 Certification is a critical component of its comprehensive and transparent leadership effort to protect businesses. "We have always held security certifications as a priority to demonstrate how we keep customers' best interests above all else," said Luke Lenzen, SiteLink's Chief Technology Officer. "Undergoing this type of certification is not a small feat. Data encryption and quarterly penetration testing are focal points of our security strategy."
The PCI DSS Level 1 Certification brings peace of mind to owners with the understanding that external auditors have certified the SiteLink suite of software products after the most stringent security audit.
SiteLink's PCI DSS Certificate of Compliance can be obtained here.
About SiteLink
Founded in Raleigh, North Carolina in 1996, SiteLink is the most prominent smart management software in the self-storage industry with more than 11,000 stores worldwide. Feature-rich software, quality service, regular updates and user-friendly design make SiteLink Web EditionTM a highly scalable, easy to deploy favorite of single and multi-store owners including 70 of the top 100 operators. At no additional charge, SiteLink integrates with more than 30 technology partners' services including kiosks, mobile devices, websites, insurance, call centers and other platforms. Powerful, built-in features like SiteLink Merchant Services™ deliver payment processing without a third party provider. Another industry-first service, SiteLink eSign™, offers electronic signature, online rentals and lease archival. Profit potential from revenue management, built-in CRM, email and text messaging remains unsurpassed.