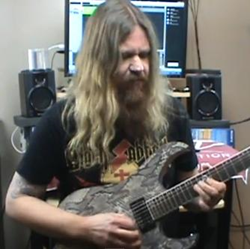 (PRWEB) December 18, 2014
The guitar lesson taught by Darrin Goodman is based on an arpeggio shape that uses all six strings. The arpeggio is Em (E minor) which consists of the first, third and fifth notes of the major scale. Goodman demonstrates the arpeggio shape as follows; 12th fret of the 6th string with first finger to the 15th fret with 4th finger to the 14th fret of the 5th and 4th strings with 3rd finger to the 12th fret of the 3rd, 2nd and first strings with first finger and finally the 15th fret of the first string with 4th finger. Guitar TAB's are available for this cool lead guitar lesson at GuitarControl.com.
Sweep picking is a technique where the guitarist plays single notes on consecutive strings with a "sweeping motion" of the pick, while using the fret hand to produce a specific series of notes, usually an arpeggio, with both hands essentially perform an integral motion in unison to achieve the desired effect.
An arpeggio is when the notes of a chord are played separately in a sequence. The word comes from the Italian word apeggiare which means "to play on a harp".
The major scale, aka the Ionian Mode, is a seven tone diatonic scale that is widely used in western music. The eighth duplicates the first at double its frequency so that it is called a higher octave of the same note, which its name is derived from Latin "octavus", the eighth.
Darrin Goodman
Darrin Goodman, a native of Ogden Utah, began playing guitar at the age of 12 after hearing KISS at an earlier age. Darrin has been a local finalist for the King of the Blues contest and is the lead guitarist of international recording artist Sonic Prophecy who has performed with artists such as Accept, Sabaton Cinderella and Ratt. Darrin has been teaching private lessons to 30 to 60 students a week from his home studio since 1987.
About GuitarControl.com
GuitarControl.com is the leader in modern guitar instruction. It's packed with recourses including articles, video lessons, and the best videos in the business for the beginner to the advanced guitar student taught by the best instructors out there. Weather you are into the blues, rock, jazz, metal, folk, or anything in between, they have you covered.