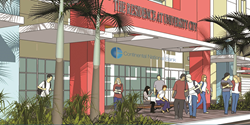 Miami,FL (PRWEB) December 19, 2014
In preparation for the inauguration of a brand new service center,Continental National Bank, Miami's premier community source for financial services, relocated its Sweetwater Branch to a convenient and accessible location in Florida International University. The new hub, which opened its doors early in December, is located at FIU's College of Engineering and Computing Campus at 10555 West Flagler Street.
The transitional location will offer the premium banking services that Continental National Bank customers are accustomed to, along with an ample parking facility. It will continue to serve its clients through 2016, when the construction of the Bank's upcoming branch will be completed. The new branch will be located on the grand floor of a Student and Staff Residential Building.
Continental National Bank is proud to bring its wide array of services to this new centric location, and pledges to continue to provide five-star solutions for returning and new customer alike; while now extending their scope to serving Florida International University's vibrant and thriving community.
About Continental National Bank:
Continental National Bank is a full-service community bank established in 1974 in Miami as the first Cuban-American-chartered national bank in the United States, serving its customers for 40 years. With seven branches conveniently located throughout Miami-Dade County, and with more than $365 million in assets, Continental National Bank was awarded the five-star "superior" rating by BauerFinancial and also has been rated "Outstanding" in their Community Reinvestment Act evaluation by their regulatory agency. The Bank offers a full range of financial products and services for retail, business and institutional clients.
http://www.continentalbank.com