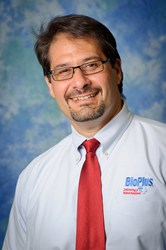 (PRWEB) December 19, 2014
BioPlus Specialty Pharmacy (BioPlus), one of the nation's leading specialty pharmacies, announces the promotion of Nick Maroulis, Pharm.D. to the newly created position of Vice President of Specialty Pharmacy Services.
In this position, Dr. Maroulis will continue to manage the entire specialty pharmacy while also managing the directors of our multi-site pharmacies as the company expands. Dr. Maroulis has been with BioPlus since 1997 and during that time he has served in many different capacities in the pharmacy, with his most recent role serving as Director of Pharmacy.
"Nick has proven himself time and again to live out our core values and our mission in Specialty Pharmacy Services during the 18 years he has been with BioPlus," says Elvin Montanez, Pharm.D., Senior Vice President at BioPlus. "His experience, expertise, and leadership will be valuable in maintaining our best-in-class specialty pharmacy operations while we continue to build out our multi-site programs," he adds.
About BioPlus Specialty Pharmacy
BioPlus Specialty Pharmacy is the first specialty pharmacy to introduce a two hour turnaround from referral to patient acceptance. BioPlus... Where healing begins in 2 hours. Our company celebrates 25 years of excellence in specialty pharmacy, working closely with payers and the pharmaceutical industry, as well as with prescribers to get prompt treatment for patients, and directly supporting our patients nationwide to achieve optimal health outcomes. Our proprietary web tool Tap App, connects prescribers to the pharmacy by bringing the pharmacy chart into the doctor's office with real-time specialty pharmacy information and treatment monitoring.
BioPlus provides a complete range of infusion and specialty services, including for hepatitis C, cancer, bleeding disorders, and other complex, chronic conditions. BioPlus, a privately-held, pharmacist-owned company based in Altamonte Springs, Florida, is accredited by URAC, VIPPS, and the Accreditation Commission for Health Care (ACHC). More information about BioPlus is available at http://www.bioplusrx.com or toll free 1-866-514-8082.
For information: http://www.bioplusrx.com or
Contact: info(at)bioplusrx(dot)com
Phone: 1-888-292-0744