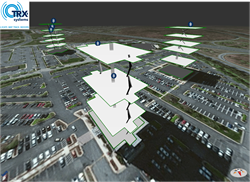 Structural, magnetic, RF, and other landmarks are detected and mapped as users move.
Greenbelt, MD (PRWEB) December 18, 2014
TRX Systems developer of the NEON Indoor Location solution, is demonstrating 3D indoor location and its unique FeatureSLAM navigation map software at the Consumer Electronics Show in Las Vegas. The TRX CES demonstration runs from January 6 through January 9th, 2015 in Eureka Park, the flagship startup destination at CES, located in the Sands on Level 2 (booth 75390). Requests for meetings and scheduled demonstrations can also be made by contacting TRX at info@trxsystems.com.
Application developers want the location capabilities available when walking outdoors or driving on the highway to be available indoors and underground. NEON patented algorithms combine data from all available device sensors including inertial, magnetic, pressure, light, Bluetooth, Wi-Fi, and, if available, GPS to calculate location. Through FeatureSLAM, features are detected, located, and fused to form indoor navigation maps. Navigation maps consist of collections of geo-referenced features and are used to deliver critical location corrections. Without corrections, sensors that are inherently subject to inertial drift, magnetic interference, and other errors would provide severely degraded information and subsequently poor location accuracy over long durations.
FeatureSLAM crowdsources the construction of indoor navigation maps. Three dimensional structural, magnetic and RF feature maps shared between users enable consistent and robust location performance over a wide array of building environments. The NEON Location Services API provides location and elevation data for applications and can also accept location input from applications. TRX delivers its NEON Location Services for public safety applications using wearable accessories and is now implementing NEON location services as a software library available for standard Android mobile platforms. A key part of this implementation is deployment of TRX FeatureSLAM software as a cloud service, a TRX development supported by the National Science Foundation.
"In the TRX approach, structural, magnetic, RF, and other landmarks are detected and mapped as users move about." says Dr. Carole Teolis, cofounder and Chief Technology Officer, TRX Systems, Inc. "Integration of the crowdsourced FeatureSLAM capability with our time tested and patented sensor hub technology allows delivery of robust location almost anywhere".
About TRX
TRX Systems provides software and products that deliver location indoors and underground, in areas where GPS is unreliable or unavailable. TRX NEON location software is unique in the use of advanced sensor fusion, ranging, and mapping algorithms to deliver precise, real time location indoors.
TRX Systems is the recipient of the 2013 ACA Luis Villalobos Award for Innovation, the Tibbetts Award given by the U.S. Small Business Administration for excellence in government research and development, the TEDCO ICE Award for Corporate Excellence, the Innovator Award from the Chesapeake Regional Tech Counsel (CRTC), the Gazette Politics and Business Top 53, and the Incubator Company of the Year by the Maryland Technology Enterprise Institute. TRX Systems won the Third Annual Global Security Challenge. TRX indoor location software development has been supported by the National Science Foundation, the Defense Advanced Research Projects Agency (DARPA), and the US Army.
For more information, visit http://www.TRXSystems.com.
About the National Science Foundation
At the National Science Foundation (NSF), Small Business Innovation Research / Small Business Technology Transfer (SBIR/STTR) is a $160 million program that catalyzes the commercialization of high-risk technological innovations via research and development grants to small businesses and startups. NSF is an independent federal agency with a budget of $7 billion that supports fundamental research and education across all fields of science and engineering.