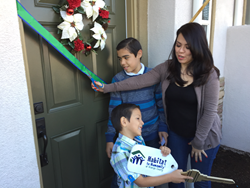 To build a home and know the good it will do a deserving family is about the best feeling in the world.
Irvine, California (PRWEB) December 18, 2014
After months of effort and hundreds of volunteer hours, as of last Saturday, December 13, the Casillas family finally has a home to call their own. Their homeownership was made possible by Habitat for Humanity, Orange County Chapter and the organization's many volunteers and corporate sponsors, including Antis Roofing & Waterproofing, which donated the roof installation.
In a home dedication ceremony in Cypress, California, Ms. Casillas and her family received the mortgage papers for their 3-bedroom, 2.5-bath town home from Antis Roofing owner and Habitat OC board member Charles Antis. During the ceremony, three other families also received mortgage papers on new homes constructed through the efforts of Orange County businesses, volunteers and the eventual homeowners themselves.
Habitat for Humanity homeowners are required to invest 500 hours of sweat equity into their future home's construction. They also must provide a down payment of 1-3% of the home's value, in addition to closing costs. Their mortgage papers are then held by the non-profit organization that retains rights of first purchase. According to long time Habitat affiliate, Charles Antis, this is exactly the type of outreach that can really help a family achieve stability and a sense of personal empowerment.
"As a roofing company, building houses for Habitat is a natural fit," says Antis, "But we wouldn't do it if we didn't believe in the transformative power of this particular organization. Habitat for Humanity provides the kind of financial assistance most of us have needed at one point or another—some people get it in the form of a big bonus at work, some as an inheritance and some from a generous family member willing to co-sign on a loan."
For Casillas, buying a home in a safe neighborhood had been a long time priority. For years, she saved for a down payment while living with her children in a one bedroom apartment, hoping for the day she would have enough money to buy a home that was close to family, work and her children's school.
And while Habitat put the dream of homeownership finally within her reach, it was the volunteers who really made it possible. "We would never have been able to purchase a home," said Casillas "If it wasn't for people like Charles and his company."
With toy drives and food drives and calls for donations at every turn, the holidays are always a time for giving. But building homes requires a year long effort, and Habitat for Humanity's work is far from completed. Antis encourages anyone with a little time on their hands to volunteer.
"To build a home and know the good it will do a deserving family is about the best feeling in the world. I encourage anyone with even the smallest amount of interest to visit the Habitat website and get involved or donate today."
To learn more visit http://www.habitatoc.org.
About Antis Roofing and Waterproofing: Antis Roofing and Waterproofing is an Orange County-based roofing, decking, repair, maintenance and replacement company servicing homeowners associations, multi-family and corporate housing communities. Now in its 25th year of business, Antis is renowned for an expertise in reroofing and decking that is coupled with a strong commitment to social responsibility. Antis donates the roofing installation for all Orange County Habitat for Humanity projects, along with providing support to a number of other charitable causes, including the Scleroderma Society of California and its annual "Fight For Lexi" Golf Tournament.