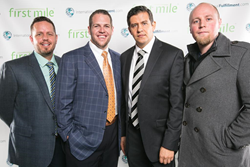 "ShipEdge was the final piece we needed to set us apart from the average fulfillment company," states Ryan Treft, President
Salt Lake City, Utah (PRWEB) December 18, 2014
After being named one of Utah's fastest growing companies, International Fulfillment Services has been on the lookout for new ways to improve their clients' experience and increase their productivity. When ShipEdge's Jose Flores approached them concerning his proprietary e-commerce software, they knew they'd finally found the most efficient order management system on the market--and they had to have it.
"ShipEdge was the final piece we needed to set us apart from the average fulfillment company," states Ryan Treft, President. Businesses frequently suffer countless losses and problems due to a lack of control and visibility during the fulfillment process. Etail Fulfillment powered by ShipEdge is the first streamlined, user-friendly software that focuses on achieving maximum automation through painless integration into businesses' daily activities.
Once they realized clunky off-the-shelf warehouse management systems just weren't cutting it, IFS rounded up their cash and equity and brought ShipEdge on board. With this acquisition, they're now able to offer their clients

increased warehouse efficiency including faster turnaround on orders and reduced shipping errors,
bi-coastal warehousing that saves on shipping rates and expedites the delivery process,
larger scale capabilities by managing thousands of SKU's out of multiple warehouses while pairing with numerous shopping carts and sales channels, and
transparency for clients, allowing them to manage their inventory and make projections from the comfort of their office chair.
"I am ready to help our team conquer the eCommerce world," states Jose Flores regarding the buyout. "And empower the eCommerce community while improving the level of service for all eCommerce shoppers."
Since opening their doors for business in 2011, International Fulfillment Services has become one of the largest shipping companies in the nation, growing in the 1000+ percentages each year. Their mission is to help e-commerce businesses, 3pl's, and e-retail industries with cost-effective solutions for their shipping, warehousing, and fulfillment needs. From order management and international shipping to e-commerce sales and distribution, they know what companies need before they wind up at their door.
For more information, please visit http://www.IFS360.com or contact Leah(at)chicblvd(dot)com.
Contact:
Leah Cybulski
ChicExecs PR - CHICAGO
http://www.chicexecs.com
708.426.8730
ChicExecs PR is an "out of the box" PR company, which represents over 100 clients. ChicExecs has created an innovative approach to PR dedicated to helping small-medium businesses receive media coverage. Our revolutionary automated system is changing the face of PR. To learn more about ChicExecs visit http://www.chicexecs.com.