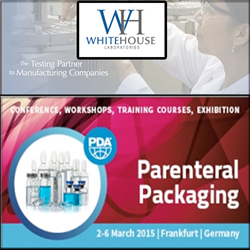 I am confident that attendees will walk away with a much improved knowledge base after spending time learning from them
New York, NY (PRWEB) January 30, 2015
Whitehouse Laboratories is excited to announce that two key Container Closure Integrity Testing (CCIT) staff members, Brandon Zurawlow and Justine Young, will be participating as speakers at the PDA Europe Parenteral Conference being held in Frankfurt, Germany on March 3rd and 4th. The conference aims to foster discussion on current trends in parenteral packaging, with a section dedicated to CCIT, as outlined in the the proposed revisions to United States Pharmacopeia General Chapter 1207. Attendees shall engage in dialogue regarding current regulatory requirements for CCI and the most effective approaches to achieving compliance in this critical area. Mr. Zurawlow and Ms. Young will be presenting on optimal test method development and validation processes as they apply various CCI technologies, and will also participate in accompanying panel discussion.
"We are extremely excited for this very special invitation for Brandon and Justine," commented Mark Stier, Chief Operations Officer for Whitehouse Laboratories. "They are on the front lines with our clients when it comes to the development of leak testing programs that meet the strict regulatory requirements expected of industry and I am confident that attendees will walk away with a much improved knowledge base after spending time learning from them."
Over the past years, the Parenteral Drug Association (PDA) of Europe has supported numerous educational programs centered on parenterals and parenteral packaging, with CCIT being of heightened importance in recent years. This focus is reflected in the upcoming conference, which will examine advances in parenteral packaging and regulatory expectations. A full session will be dedicated to current container closure integrity test methods and philosophies detailed in the recently proposed revision to USP 1207 Sterile Product – Package integrity evaluation. The session will span CCIT (leak testing) critical for ensuring integrity of primary packages, delivery devices and bulk product packaging. Application of the information presented will help ensure the development of packages well-suited for product protection and, the ability to meet strict regulatory demands for package integrity assurance, resulting in a lowered risk of manufactured product integrity failures.
For more information about the PDA Parenteral Packaging conference please visit ww.europe.pda.org.
Whitehouse Laboratories - The Testing Partner to Manufacturing Companies, Whitehouse Labs is an FDA regulated, DEA Licensed, ISO 17025 and ISTA certified contract service provider to the pharmaceutical, medical device, personal and consumer product industries. Whitehouse Laboratories offers analytical services for the testing of materials, finished products, container and package systems that enable our clients to meet and exceed the required quality standards established by the key regulatory agencies.
Parenteral Drug Association - The Parenteral Drug Association (PDA) is the leading global provider of science, technology and regulatory information and education for the pharmaceutical and biopharmaceutical community. Founded in 1946 as a nonprofit organization, PDA is committed to developing scientifically sound, practical technical information and resources to advance science and regulation through the expertise of its nearly 10,000 members worldwide. In addition to sponsoring educational conferences and training courses, PDA publishes the PDA Journal of Pharmaceutical Science and Technology and the PDA Letter, which focus on current industry and regulatory news. In keeping with its 60-year history of promoting the growth of pharmaceutical science and technology, PDA introduced the PDA Training and Research Institute (PDA TRI) in May 1997.