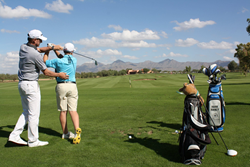 The trip was an unforgettable experience for Joe
Phoenix, Ariz. (PRWEB) December 17, 2014
One of the most important aspects of your golf game is having an effective swing. And one of the biggest names in golf swings is legendary coach Hank Haney. Besides instructing some of the most noted champions in the sport, Haney is also dedicated to helping others, which he again demonstrated recently when he granted a wish for a Michigan teen through Kids Wish Network.
The children's charity provided 15-year-old Joe Cherrin the opportunity to receive priceless lessons from Haney at Talking Stick Golf Course in Scottsdale, AZ. Haney met the teen for breakfast, gave him tips on his swing at the driving range and then invited him to play a round of golf.
"Hank [Haney] gave Joe great insight into his swing," recalls Kids Wish Network Board Member Jim Mai, who represented the organization on the wish trip. "He really took the time to break down what would help Joe excel at the game and offered to give him some tips in the future too."
"Joe has a really nice swing and great demeanor on the golf course," adds Haney. "If he keeps working hard on his game, he can be a great player."
Haney, who is best known for leading pros Tiger Woods and Mark O'Meara to multiple championships, has three golf facilities in Texas and is credited as one of the best instructors in the sport. Since Joe's life-threatening diagnosis, the teen has dedicated himself to the game and always dreamed of getting lessons from Haney.
Joe was diagnosed last year with severe Crohn's disease, an inflammatory bowel disease that caused life-threatening complications for the teen. Because of the side effects of his daily medications and infusion treatments, Joe was barred from contact sports, a situation that was hard for the active teen. To deal with this frustration, Joe turned to golf and spends most of his time trying to improve his game.
"The trip was an unforgettable experience for Joe," adds his mother Becky Cherrin. "We really thank Mr. Haney and Kids Wish Network for making his dream come true."
Joe's high school golf season starts in the spring, and he is excited to showcase his new skills.
Kids Wish Network would like to thank all the generous sponsors that helped grant Joe's wish: Hank Haney, Talking Stick Resort, The Phoenix Suns, Hotel Valley Ho, RnR Scottsdale, Bobby's Restaurant and Lounge, Butterfly Wonderland, and Octane Raceway.
Kids Wish Network is a national charitable organization dedicated to infusing hope, creating happy memories, and improving the quality of life for children having experienced life-altering situations. Learn more at http://www.kidswishnetwork.org.