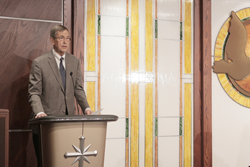 (PRWEB) December 17, 2014
In commemoration of Human Rights Day and the 66th anniversary of the UN Universal Declaration of Human Rights, the Church of Scientology of Pasadena hosted a forum December 6 titled "Religious Freedom in an Extremist World." Its purpose was to foster interfaith collaboration in support of Article 18 of the Universal Declaration of Human Rights: freedom of thought, conscience, and religion.
The forum began with a presentation by Tim Bowles, Youth for Human Rights Director of International Development.
"The 20th Century set ignoble records, with more people put to their death for their religion than at any other period of recorded history," said Bowles.
He pointed out, however, that religious intolerance continues unabated, with the U.S. State Department International Religious Freedom Report for 2013 documenting the largest displacement of religious communities in recent memory: millions of Christians, Muslims, Hindus and members of other faiths have been forced from their homes because of their religious beliefs.
Rev. Alfreddie Johnson of True Faith Christian Church in Los Angeles gave the invocation.
Pasadena Mayor Bill Bogaard acknowledged the Church for hosting the forum. He praised the Church for its support of Youth for Human Rights, which educates young people on the 30 articles of the Universal Declaration of Human Rights. In keeping with the theme of the program, the mayor quoted author and Holocaust survivor Elie Wiesel: "The opposite of love is not hate, it is indifference. The opposite of art is not ugliness, it is indifference. The opposite of faith is not heresy, it is indifference. And the opposite of life is not death, it is indifference."
Other speakers included human rights advocates and religious leaders representing the Hindu, Sikh, Muslim and indigenous Latin American faiths who spoke of the value their religion places on respect for the religious beliefs of others.
The program ended with the words of Dr. Martin Luther King, Jr. that once more emphasized the importance of standing up for the rights of others: "In the end, we will remember not the words of our enemies, but the silence of our friends."
To make United for Human Rights and the other humanitarian and social betterment initiatives it supports even more broadly available, the Church of Scientology has published a new brochure, Voice for Humanity—Real Help, Real Results.
Inspired by the words of L. Ron Hubbard, Founder of the Scientology religion, that "a being is only as valuable as he can serve others," Scientologists wholeheartedly support these programs. Participation and collaboration in these initiatives is invited and welcomed from all who seek to improve conditions for themselves and others.
For more information, visit the Scientology website at http://www.Scientology.org/how-we-help/voice-for-humanity.